4 Ways to Decorate with Lumbar Pillows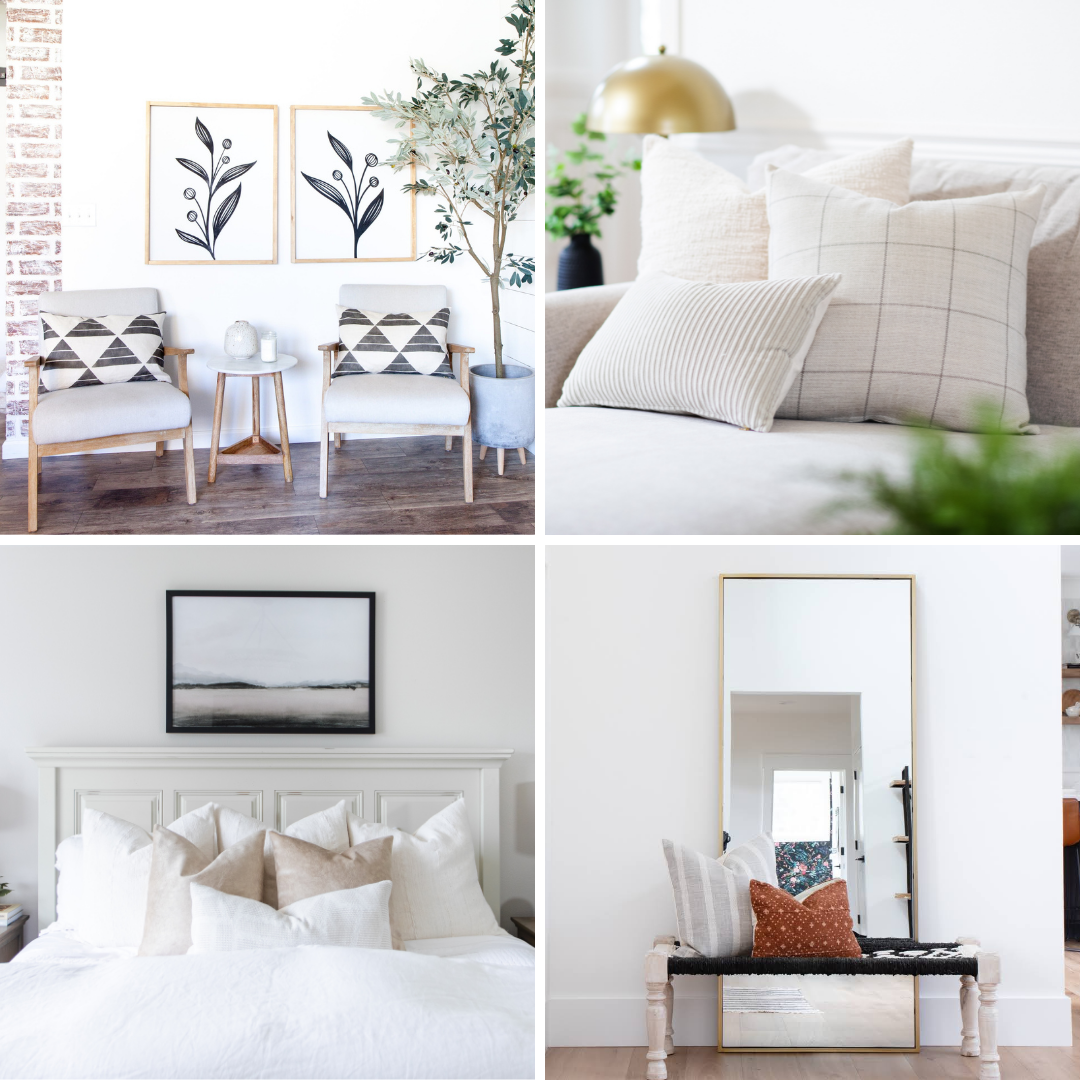 If you've spent even just a second on my website or Instagram you know throw pillows are my thing! They can add so much to a room design and showcase the designer's personality. One type of pillow that holds a special place in my heart is the lumbar pillow. 
This particular pillow is so underutilized which is such a shame because it has so much to offer! I love lumbar pillows and today I want to share 4 ways you can use them to decorate your space.
1. Add some extra punctuation to your accent chairs
You have accent chairs for a reason... to accent your design! So, why not show them off a bit more with your lumbar pillows? You can use colors that match the chair for a monochromatic look or go for something more contrasting for that pop of color. For accent chairs, I recommend the following sizes of lumbar pillows: 10"x22", 12"x18", or 14"x20"
2. Give your sofa that stylish asymmetrical look
Sofas can take up a lot of space in a room and can sometimes look more functional than stylish. But with the strategic placement of your lumbar pillow, you can elevate your design to include an eye-pleasing, asymmetrical look. For sofas, I recommend the following sizes of lumbar pillows: 10"x22", 12"x18", 14"x20", or 16"x24"
3. Add the perfect finishing touch to your bed
Similar to sofas in a living room, beds tend to be the focal point of the bedroom and adding a lumbar pillow can really act as the finishing touch for your design. Depending on the size of your bed, you can have anywhere from 2-7 décor pillows--lumbar pillows included. For tips on how many pillows to use on each size bed, visit my recent blog post. For beds, I recommend the following sizes of lumbar pillows for different sized beds:
Twin: 14"x20"

Full/Queen: 16"x24"

King: 14"x30"
4. Welcome your guests with your styled entry bench
Make a great (and stylish) first impression with your guests with a lumbar pillow on your entry bench. A bench in the front entry way of your home allows your guests somewhere to sit if they remove their shoes and somewhere for them to keep their personal belongings. If you're feeling festive, this is a great place to display a seasonal lumbar pillow. For entry benches, I recommend the following sizes of lumbar pillows: 14"x20" or 16"x24" paired with a 22" square pillow
Now you know exactly how to decorate with your lumbar pillows! And since your eye is naturally drawn to the differing size of the lumbar pillow, this is your chance to add some texture, a print, or even something seasonal to your design. Have fun with it!
Enjoy those lumbar pillows! 
XOXO, 
Pin Now!
Leave a comment
Comments will be approved before showing up.