Available Now! Spring 2017 Collection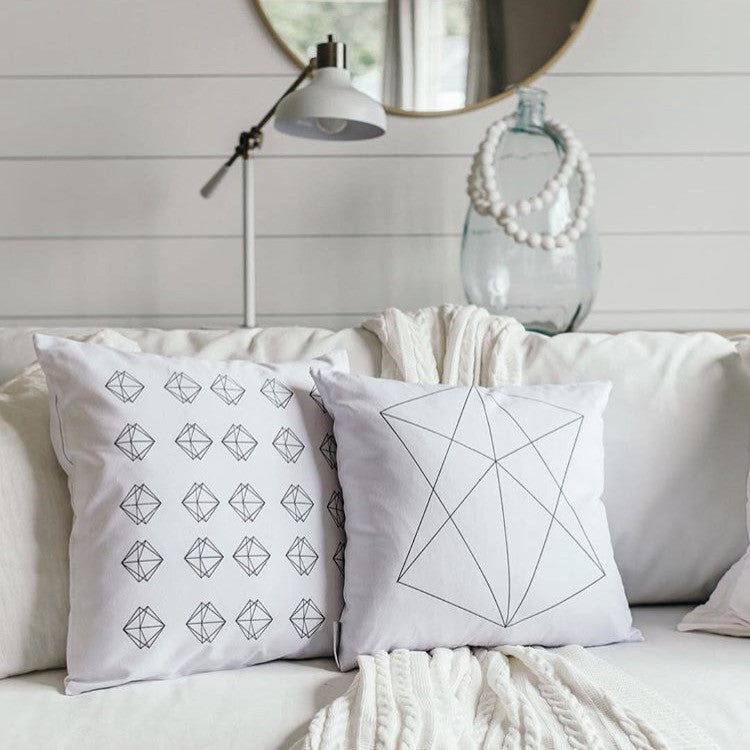 Spring has arrived (in its own, not-so-springy way) in Seattle! It's raining most days, and we have even had a few days of snow! It's still chilly and wet, so we are staying in and keeping warm, but the chaos of the holiday season has worn off and I can't believe we're already halfway through February. Time slow down please! 
In my world, the changing of seasons isn't just a weather thing. It's a pillow thing! I love creating new collections for each new season. It's so fun to find inspiration around me and make pillows for you that reflect what I'm seeing in the design world. For our Spring collection I wanted to really focus on simplicity. I'm loving all the new trends I'm seeing everywhere. I talked about it in my Spring Style Guide post, but style is changing a lot this year! Everything is moving towards a more modern look. Sharp, angular shapes, geometric patterns, bold colors. Mid-Century Modern is everywhere, and I love it, but it's really a departure from my style. 
As far as I can tell, Farmhouse is going to be my style for the long haul. I never see myself departing from a white kitchen, from rustic accents and neutrals everywhere. So Vintage Chic will always have that. But I think that pillows are the perfect way to incorporate some new trends and styles into a home. This season we have lots of geometric shapes and patterns. You'll see a lot of my classic looks: calligraphy and watercolor and neutral colors, but there are also some fun new additions. These simple patterns are the perfect way to add layers and textures into a room without being overly busy. We've had enough of busy! Spring needs to be fresh and clean. In my home I slowly incorporate more and more color as I see more color emerging outside. As the flowers bloom I'll start to work in some subtle pops of color in my living space - an effort to bring the changing seasons into my home. 
That's what I've created this season. Always simple, always mostly neutral, always a hint of farmhouse, but we've given a nod to Mid-Mod, and welcomed in some colors to reflect the changing seasons. 
I'm so excited to see these in your homes! Let me know what you think! 
All of these gorgeous photos are from Ashley at House of Five! Go check out her site and show her some love! 
g e o m e t r i c : 
s t a m p s : 
w a t e r c o l o r : 
xoxo, 
Kendra 
Leave a comment
Comments will be approved before showing up.