Modern Farmhouse Fall Style Guide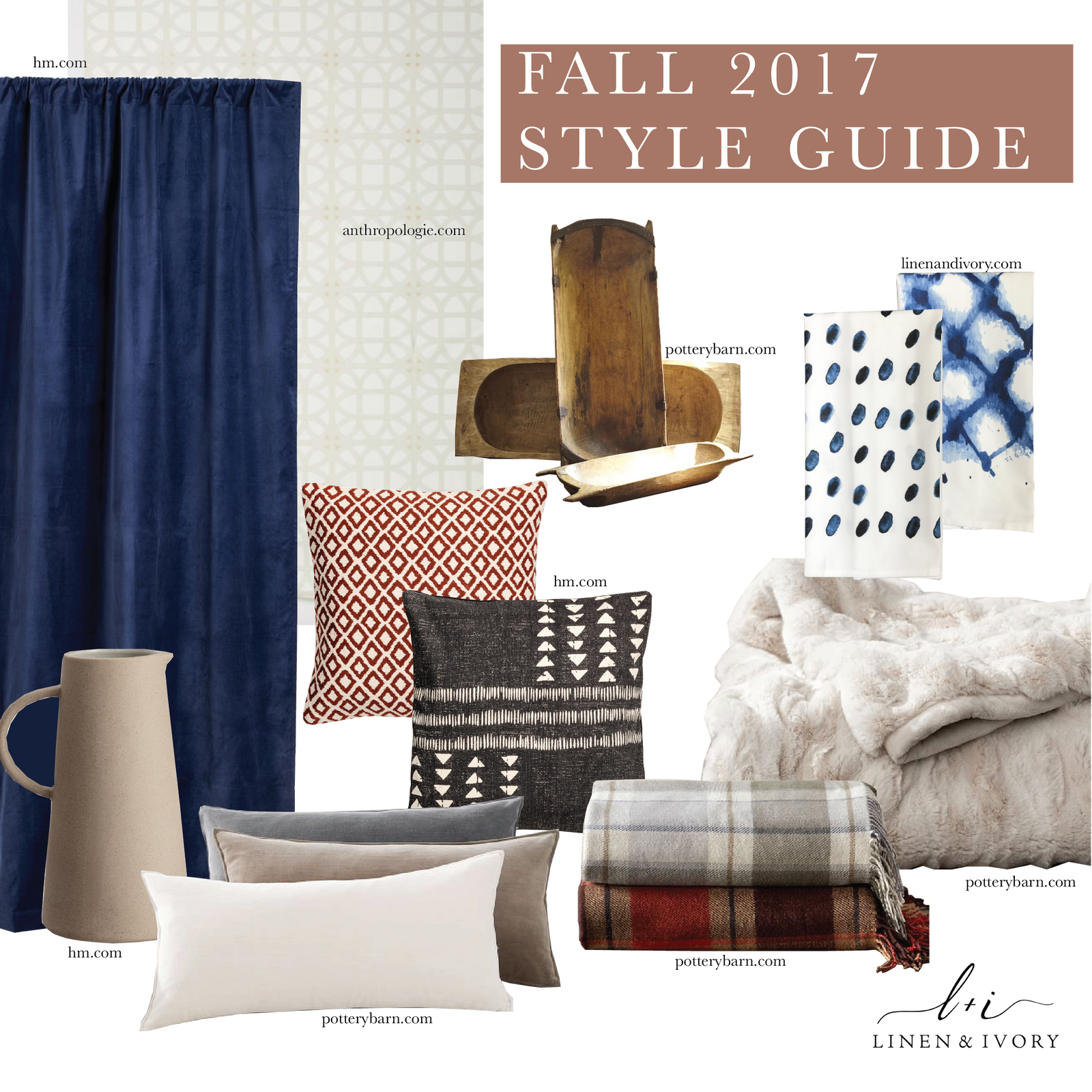 I don't even know how this happened, but all the sudden we've made it to FALL! The kids are in school, the weather is (kind of) starting to cool down, and I'm seeing pumpkin spice things pop up all over the place. I don't even know if I'm ready for that yet, and I'm the biggest pumpkin freak ever.
Anyone else in the same spot? The thought of "transitioning" my home for fall seems almost laughable, considering we've been working tirelessly just getting this house live-able. It's going to be VERY minimal this year. A pumpkin here and there, maybe a front porch arrangement, but I've been seeing some really amazing styles pop up for Fall 2017, and I want to talk all about it here! This Fall we're going against the grain big time, adding in deep jewel tones, bold textures and patterns, and some amazing textiles.
Keep in mind that whenever I talk about adding in colors and textures, I'm not going overboard here. A little accent here and there will do the trick. For me, my house is going to stay mostly neutral. But it's fun to see what people are up to in the design world, and applying a few new ideas here and there is just fun. So get ready, here's Fall.
COLOR
Deep jewel tones. Maroon, navy blue, rose, even some purple. Eeeek! Any of my neutral-obsessed friends cringing right now? Pro tip: Start small with a pillow or throw blanket. Maybe a fun bench or ottoman. Even some kitchen accent pieces could be fun! No need to go crazy, but adding in some fun pops of color will give your home a fun, warm, and updated feel for this Fall season. I think navy is just about as far as I'll be going here! It almost counts as a neutral, right? 
TEXTURE
Well, of course the answer is still FUR. Nothing's changing there in my book. I think I have it in almost every room of my house. A fun new one to play around with this season is VELVET! There's so much out there right now - headboards, couches, lamps. All in gorgeous jewel toned velvet. I just love it. World Market has some fun items, as well as West Elm!
NATURAL
A good standby for Fall is adding in some natural elements to your decor. So, pumpkins, duh. But you can also play around with twigs, birch logs, and other fun rustic wooden accents to switch things up.
PATTERN
I'm also seeing amazing and bold patterns pop up everywhere! From wallpaper to textiles, there are all kinds of fun prints available right now. I say it all the time, adding in texture and pattern is a perfect alternative to bold colors if you're loving a neutral home! Add in some contrast with some big, fun patterns. Of course the top of mind is plaid! Plaid is such a perfect way to make your house look all cozy for fall.
There you have it! My super simple guide to Fall 2017 decor. I'll be picking a few little additions here and there to throw into my decor game, but keeping it really simple for the most part. What trends are you loving this year? Anything you can't stand?
Leave a comment
Comments will be approved before showing up.