#FavoriteThingsFriday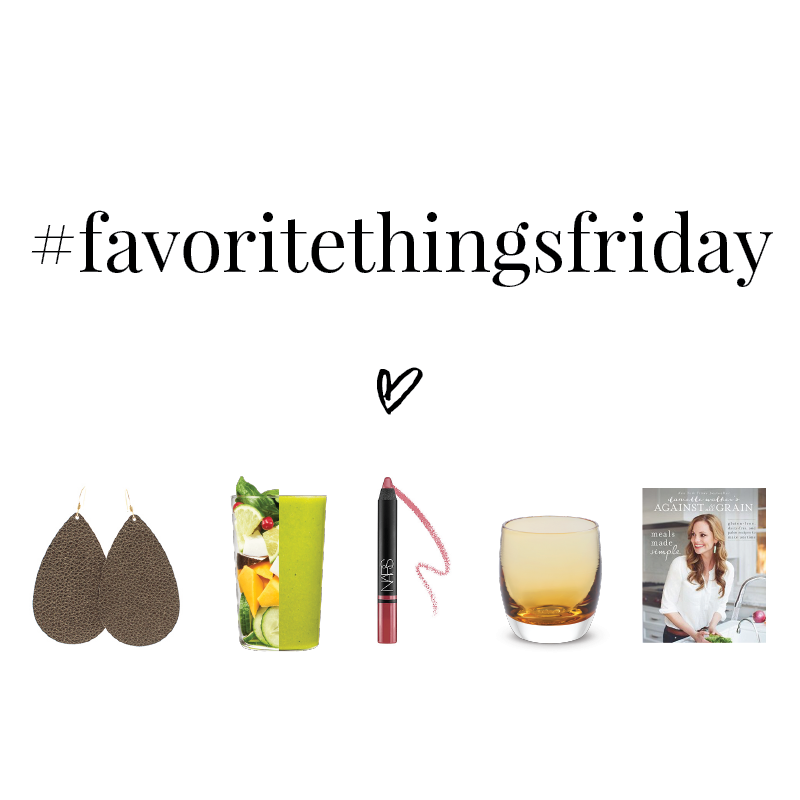 You guys, I'm SO excited about this. 
It feels like I spend SO much of my time with friends talking about all the little things we're crazy about: this podcast I found last week... this makeup a friend told me about and now I can't live with out it... this shop that is so cute I can't even handle it... Sound familiar? 
I wanted a place on the blog where I could dish it out. All the favorite things. We're talking snacks and books and lipsticks because this is what friends do, and that's what you are!
We'll start this as a monthly post, but I have so many favorite things that it might just happen a lot more often! So here we go, my February #FavoriteThingsFriday! 
Guys, I can't say enough about Nickel & Suede. These are my every single day, throw on for preschool drop-off, feel fancy for date night (and everything in-between) earrings. And they are LEATHER. These earrings come in all sorts of metallic finishes, different colors, and different shapes and patterns. And they are the most comfortable pair of earrings ever. They weigh close to nothing, and you could literally take a nap in them and not even notice they were there. 
My favorites are these and these but I legit like every single one. 
Okay. Moms everywhere are about to rejoice. Have you guys heard of Daily Harvest? It's a subscription-based service where you order ready-to-make smoothies and soups, and they come to your front door as often as you want. Don't have enough time to make breakfast? Throw a smoothie cup in the blender with some juice and you're done. No idea what to make for lunch? Pour boiling water in a soup cup and your meal is ready. It's the perfect no-guilt, on-the-go meal. And you can get 2 free with this link: https://daily-harvest.com/?ref=23938
Get rid of everything you thought you knew about lip pencils. This is a literal game changer. Usually lip pencils leave your lips feeling so dry, but this lip pencil feels like absolute butter when you apply it. You can wear it on its own or under lipstick if you want a little more pop. And this color (Rikugien - how do you even say that?) is AMAZING. The perfect go-to lip color!! 
GlassyBaby is one of my favorite things to decorate my home with! These gorgeous votives are hand-blown, local to Seattle, and available in a HUGE variety of colors. I have a long-standing Christmas tradition with one of my besties (Tahnee at Wish You Were Northwest) where we gift each other a GlassyBaby every year for Christmas . This year she gave me the Whiskey color and it's my favorite one now! I love the gorgeous color and the way light shines through it. That amazing Whiskey color goes so well with just about anything! 
5. Meals Made Simple by Danielle Walker
Danielle Walker from Against All Grain is one of my faves. While I don't think I will ever be completely grain-free (I couldn't do that to bread!), I love to cook as simple and clean as possible. This is my favorite weeknight cookbook. Every recipe is so easy to make and so delicious. My kids LOVE recipes from this book and they have no idea how healthy their food is. (My favorites: Garlic Herb Chicken Thighs, Chicken Verde, and Meyer Lemon Curd Cakes - I'm drooling.) It's a win all around. 
I would be lying if I said that was all the things I'm crazy about right now. I could go on forever but I'll keep it to five for simplicity's sake. What are you loving right now?? What's something you can't go without? I want to hear!! 
xoxo, Kendra
Leave a comment
Comments will be approved before showing up.