#FavoriteThingsFriday - March Edition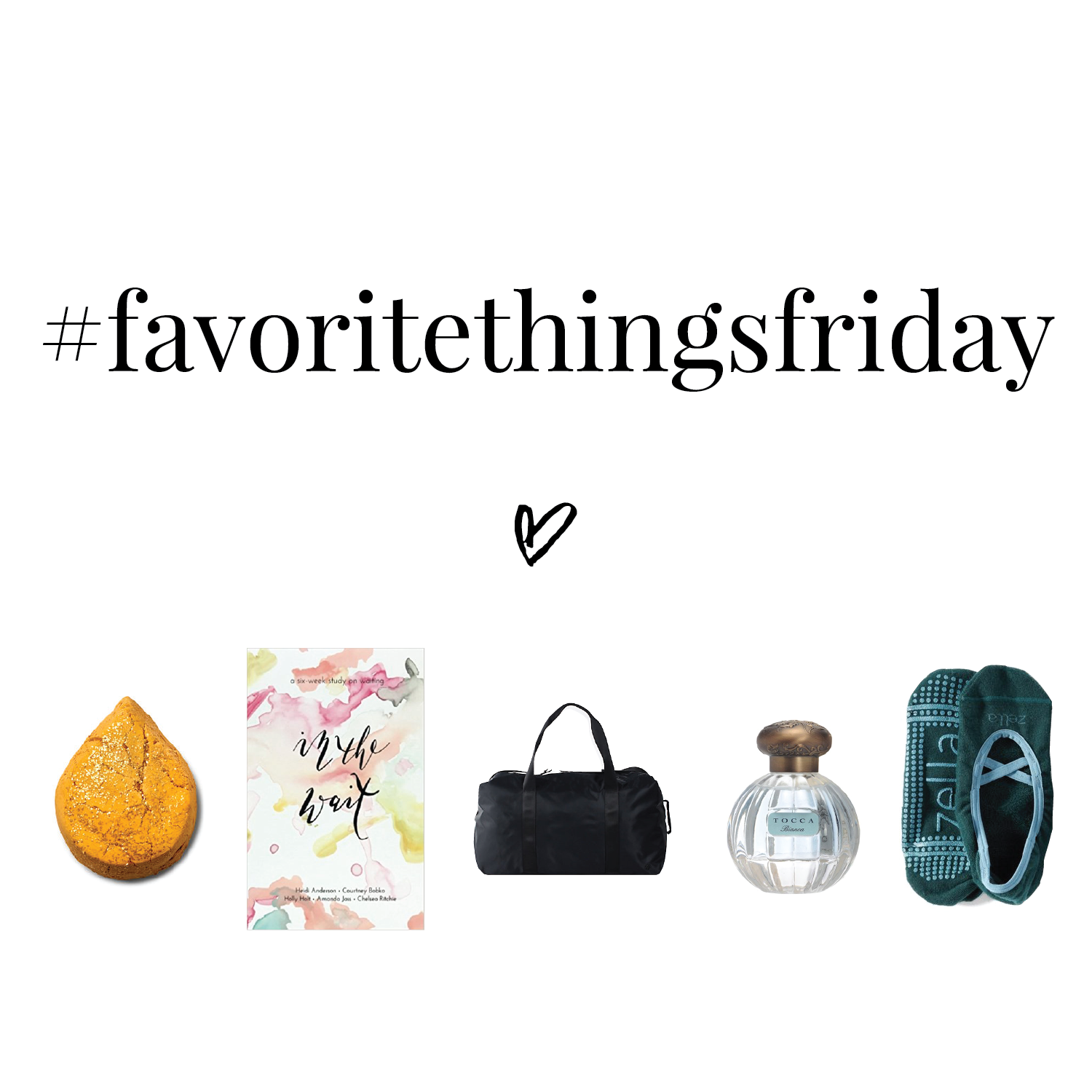 And we're back to my Favorite Things! This is one of my favorite posts because it's the easiest thing in the world to write about. These are the things I talk about with my girlfriends just about every day.
What are you reading?
What lipstick is that?
Where did you get that necklace?
GIMME THOSE SHOES.

It's just what we do. So here's my March round-up. Enjoy!

These are just the cutest. I picked them up when I started doing Barre last year and they are just so fun! They are grippy on the bottom which is perfect during class, and the little design makes you feel like a ballerina! (some childhood dreams never die.) 
This is the perfect fragrance for every season. It's light, not too overbearing, and just a feel-good scent. I picked it up on my trip to the Magnolia Silos last year so naturally it must be amazing if my BFF Joanna says it is! 
I searched and searched for a bag that would be the perfect size for weekend trips and you guys, THIS IS IT. I literally can pack everything in it. I call it my Mary Poppins bag - it's unreal. Perfect to carry on a plane too! And how cute - there is a little heat-proof pocket to throw your straightener in when it's still hot! 
This book has been so meaningful to me over the past year. (Yes, the six-week study has taken me an ENTIRE year. #okayest) The past few years for me have been super transitional. Between new schools for the kids, friends moving away, switching churches and renting homes, there has been a lot of change and a lot of waiting. This has been perfect for me and so encouraging. I honestly can't recommend it enough! 
5. Lush Sunnyside Bubble Bath Bar 
Oh my gosh, you guys. Honestly saved the best for last. This is SO FUN. You just break off a little piece of this bar and throw it in the bathtub, and it's bubbles for DAYS. The only downfall is that it leaves a little shimmery gold ring around the bathtub but honestly, I'm not sure if that's a problem.
As we transition it's spring it's always fun to have a few new things to love and get excited about! Do you have some favorite little gems that I NEED to know about? Comment below- and post a link if you have it! =) 
XOXO,
Kendra
Leave a comment
Comments will be approved before showing up.