Hit Refresh: Spring Home Decor Round-up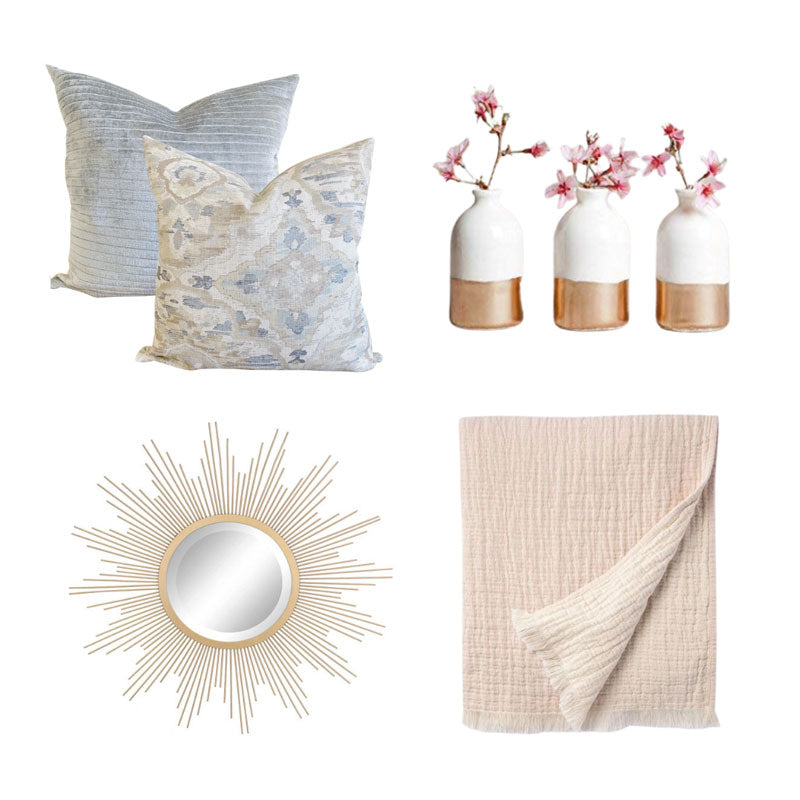 After a season cooped up for quarantine and frigid winter temperatures, I am definitely craving a spring refresh! While we wait for the weather to warm up and the flowers to bloom, I am bringing in the soft, airy pastels, gorgeous greenery, and bursts of joy inside my home. Check out some of my favorite finds!


It wouldn't be a Linen & Ivory decor round-up without starting with pillows. Our soft velvet Sloane and watercolor, floral Everly were made for spring. The beautiful blue hue reminds me of the clear blue skies that will hopefully be coming (even in Seattle!), and the contemporary floral pillow are definitely not your grandmother's florals!



Doubling as a planter and propagation station, this piece of wall decor will let the clean air from plants waft through the room! Handmade from natural pine timber, simply insert your plant into the glass test tube and enjoy this unique addition to your gallery wall!



Swap out your heavy throw blankets with this light gauze throw blanket. Beautiful and blush, this lightweight blanket will let you get snuggled up and cozy without feeling overheated. The reversible fabric means there is no wrong way to drape it over your couch or chair. 



If you are trying to do some spring cleaning, this basket will help you get organized in style! Complete with leather handles and little feet for function stability, the open-weave texture will add a design statement while helping you stash all your living room essentials. 



These bud vases are truly one of a kind! The variance of the hand painted gold leaf allows for each vase to be uniquely yours! They come in a set of three and are perfectly sized to fit your favorite flower bud.
If all the dreary weather has given you a case of the winter blues, this candle can help lift your mood. Named "Happiness" for a reason, it is infused with 8 pure essential oils to help balance emotions and ease your worries. So strike a match, light the wick, and get ready to escape to your happy place. 
Even on a cloud day, this sunburst wall mirror shines! Featuring an antique gold finish, this unique mirror will catch more than just your own two eyes staring back at you. Measuring 24" inches in diameter, it is just the right size to make a stunning statement on any wall.
Every season is wreath season! So this spring, welcome your guests at the front door with a high-quality farmhouse wreath! Your guests won't only love the sight of this classic piece of decor, but they will also be greeted with a scent that you are able to customize.


Calling all my wildflower friends! This piece of art is for you. Secured in a sleek wood frame, the wildflowers in this picture add a bit of floral flair and will help set the scene for spring!


Here is a quick link to all the sources. Some of these sources I may earn a small commission from, but this does not affect the cost of goods for you! 
From my heart and home to yours, happy spring decorating!

XOXO,
Leave a comment
Comments will be approved before showing up.