How to: Creating the Perfect Pillow Pairings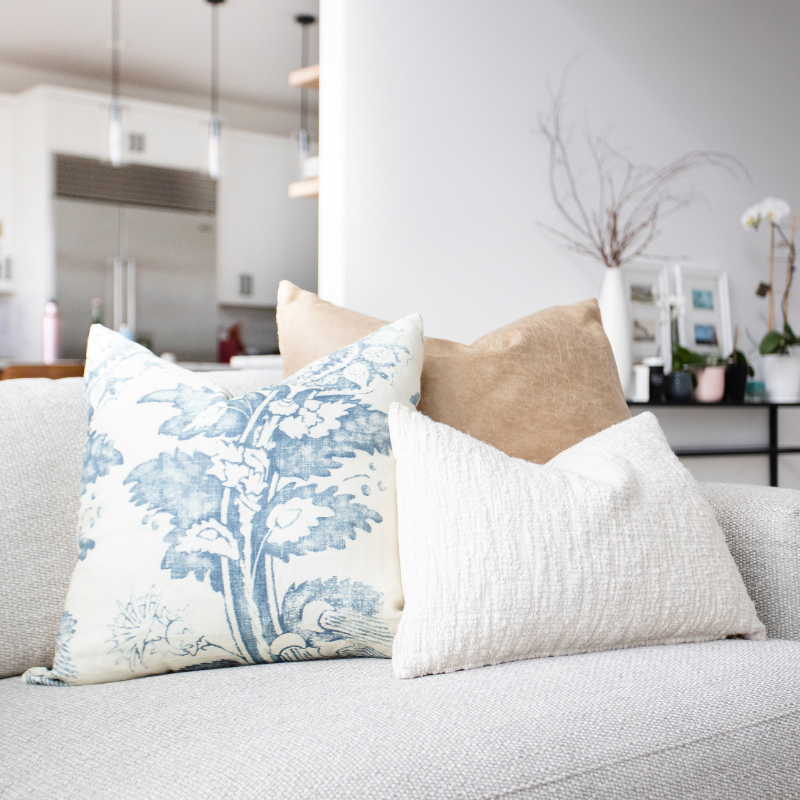 I may be a little biased, but I think pillows are THE way to add instant style to your home. However, I have heard from you that pairing pillows can make you panic. I get it, but pillows are not supposed to cause stress. Life gives us enough of that! With that in mind, I have come up with some guides to get you started in the right direction. Follow these ideas and I promise your pillow game will be on point!
PATTERN + FAUX LEATHER + SOLID
With a beautiful teal velvet pattern, Sylvia really is the star of this sofa! Don't count the others out though! The pattern lays perfectly on the solid yet textured ivory canvas of Fiona. The trio is made complete with Montana who adds a soft edge with her buttery whiskey brown faux leather. 
FLORAL + STRIPES + SOLID
If you think floral and think of your grandmother's curtains, think again. Tara's soft, raised warm floral print is eye-catching in all the right ways. She is backed up by our textured solid ivory, Willa, and harmoniously paired with Mila's neutral ticking stripes. 



FAUX LEATHER + FLORAL + SOLID
This combination is all about letting Juniper's beautiful blue botanical print do her thing! She still needs her friends though to shine! In a versatile brown faux leather, Montana is like the supportive friend that always has your back. To finish off the look, the solid Willa comes a little closer to the front proving that solids can sometimes be closer to center stage. 
HERRINGBONE + FLORAL + SOLID
Floral doesn't allows have to be front and center. Our dark and moody floral in a sumptuous velvet, Isla, is letting our charcoal herringbone, Wesley, do some of the talking. This creative combo is made whole by our solid fine friend, Fiona. 



Hopefully you now see magic made when pillow's are paired. Pillows prove that two ( or three in this case) is always better than one! However, if you are still hesitant, we are here to help create a custom look with our Pillow Design Consultation. So whether you DIY or call the designers, everyone can achieve the perfect pillow pairings!
XOXO, 
Leave a comment
Comments will be approved before showing up.