Modern Farmhouse Dining Room Inspiration with @AshleyDSP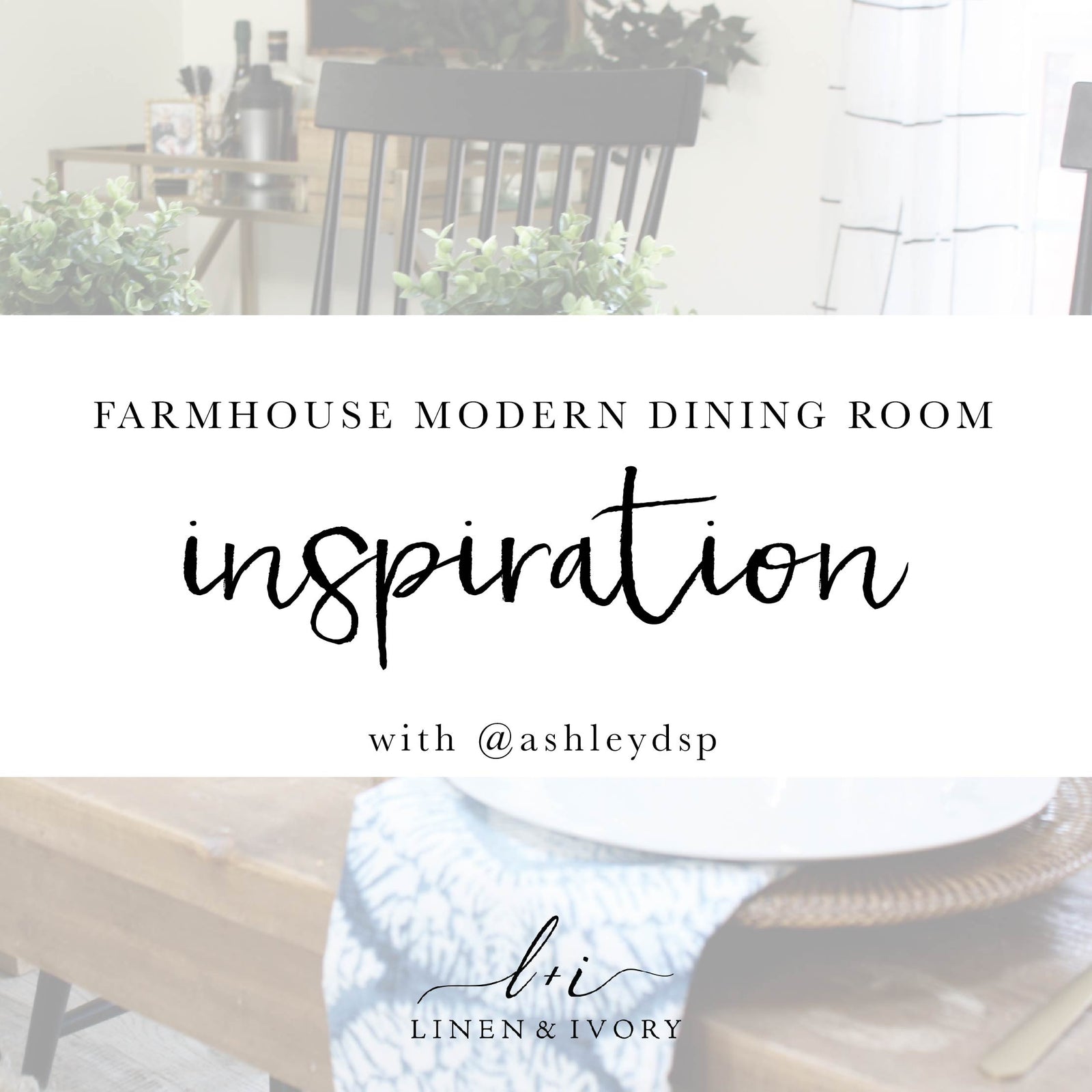 You guys, I'm giddy. This week I'm so excited to introduce my best friend and design genius, Ashley. She's spent the past year tirelessly, and mostly single-handedly renovating her fixer-upper home, and it's just a thing of beauty. Today I'm showing off her dining room area and picking her brain about all things home decor. She's going to share her budget home decor secrets (Craigslist, anyone?) and tips for seamlessly switching your home decor for the changing seasons. Sit back and enjoy!
How would you define your home decor style?
"I'm not one to typically label my style because it makes me feel claustrophobic (it's the rebel in me), but I definitely gravitate toward a Modern Farmhouse feel with touches of Coastal Chic. Those are the professional terms of course!"
What was your vision for this space? What purposes did you need it to serve?
"During our remodel, we knew that with an open concept floor plan, we needed our dining area to be both super functional, and still have the ability to be dressed "up" or dressed "down" for all of our entertaining and daily needs. We have three little kids who eat breakfast, lunch and dinner in this space. And we LOVE to host and entertain, so it was important that we also had elements that could easily transition to something a little more adult-friendly."
What are your favorite details in your dining room space?
"I love our vaulted planked ceiling. This room previously had sunken floors and drop down ceilings, so raising the floors and vaulting the ceiling really helped tie in the space to the rest of our home. I also love all of the natural light that this room receives. We added two skylights and swapped out the front bay windows in order to maximize all the sun exposure we could muster up."
Where did you shop? Products you love?
"Craigslist mostly! I have alerts set up on Craigslist for primarily stores that I love (for example these World Market high back chairs). If you've been around Craigslist for any amount of time, you know that the good deals go fast so making it a daily habit to search for your desired items is a must. Oftentimes, you can find items that are still currently sold in store that people simply can't return and are virtually new - SCORE! Otherwise, I love all of the Modern Farmhouse items that Target has come out with lately (including our bar cart). And then I love HomeGoods and TJ Maxx for any sort of decorating accessory (napkins, fun dishes, serving ware, etc.)"
What's worth splurging on?
"A table. This is the heart of your home. We eat all of our meals around our table. This farmhouse table from Restoration Hardware was definitely a splurge, but has been so worth every penny. There's a butterfly leaf extension that I'm able to extend at a moment's notice whenever we have company. Life happens around the table, so I definitely feel pretty passionate about choosing a table that will anchor your room and serve every potential purpose you need it to."
Any pro tips for updating your rooms with the changing seasons?
"As you can see, every big piece in the room is a neutral. I stick with whites and blacks mostly, mixed with wood and metal elements. This allows for a seasonal table runner to be added, or fun chargers for a dinner party to be swapped out quickly. We have cupboards on our island where I store all of our entertaining supplies, including chargers, placecard holders, napkin rings. Curtains are also a really quick way to transition your space from season to season. Currently, we have these curtains up that are patterned and light and airy for spring/summer. Come fall/winter, I'll be swapping them out for something a little more heavy and cozy."
For sources and other amazing content, head over to Ashley's Blog! 
She also just launched an amazing suite of design services! Need an extra set of eyes? Hit her up!
Leave a comment
Comments will be approved before showing up.