Modern Farmhouse Valentine's Day Decor Round-up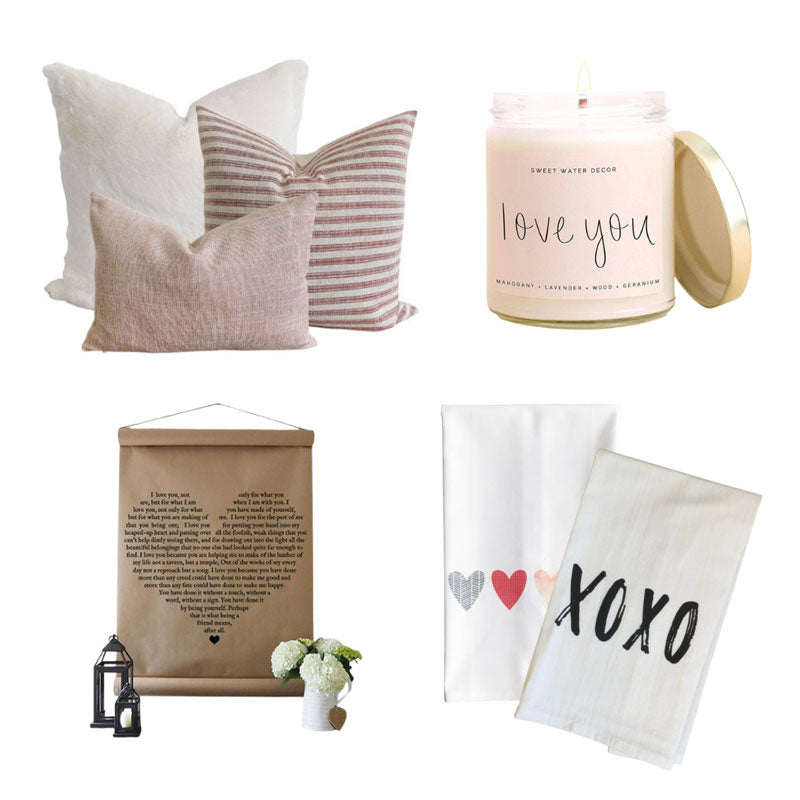 I love holidays and I love decorating, but I admit, I find a lot of holiday decor tacky & ugly. I've scoured Amazon & some of my favorite small shops to find Valentine decor that is simply stated, pretty, & won't break the bank!

When I create new pillow designs, I always aim for styles that can easily mix and match with each other. Originally I designed the Holly  and Alexis pillows for Christmas, but ended up LOVING them for Valentines Day! I've paired them with one of our best selling faux fur pillows, Hadley that is oh so soft to the touch! Of course, this is only the beginning.  We have other farmhouse Valentine options, so you can find the best fit for your style & budget.
Don't leave your pillows looking for love! Think of a throw blanket as your pillow's perfect cuddle buddy! Not to mention a must-have item to keep you warm and cozy in the winter. So drape this beautiful chunky knit throw blanket across your chair, sofa or bed for constant comfort and style. 
I had the honor of meeting the shop owner of Zo & Jordan recently, and let me tell you she is WONDERFUL. She creates these beautiful scrolls that are unique and can be personalized with quotes & artwork that have meaning to you. She has a few different Valentine Day options so make sure to check out her site here.
Garlands are such an easy way to decorate & "dress up" mantles, shelves or areas that just need a "touch" of decor. I found these on Amazon & I am tempted to get one in every color run to be prepared for every holiday and party. Also, did you know that Amazon has a whole handmade section you can shop on and support makers like myself and thousands of others! 
I can already hear John Legend's smooth voice singing these sweet words! Another winner from the handmade section on Amazon (go makers!) this set of 3 wall art decor pieces, feature the lovely romantic lyrics in flourishing lettering. They come as high-quality prints that will fit your favorite 11 x 14 frame. 
Having the ladies over for a Galentines Party? Head on over to our collection of Valentine's Day tea towels to find the final touch of flair to add to your kitchen or tablescape. And if you are in need of some tablescape inspiration, make sure to check out this post on how to create a  Simple & Elegant Tablescape.
Complete the room and indulge your senses with the sweet aroma of a burning candle! This handmade soy wax candle features the feminine fragrances of lavender and geranium uniquely paired with more masculine notes of mahogany and earthy wood. This "Love You" candle will say with a smell the reason for the special day. 
Quick link to all sources. Some of these sources I may earn a small commission from, but this does not affect the cost of goods for you!  Happy decorating!
 XOXO,
Leave a comment
Comments will be approved before showing up.