Perfect Modern Farmhouse Layering Pillows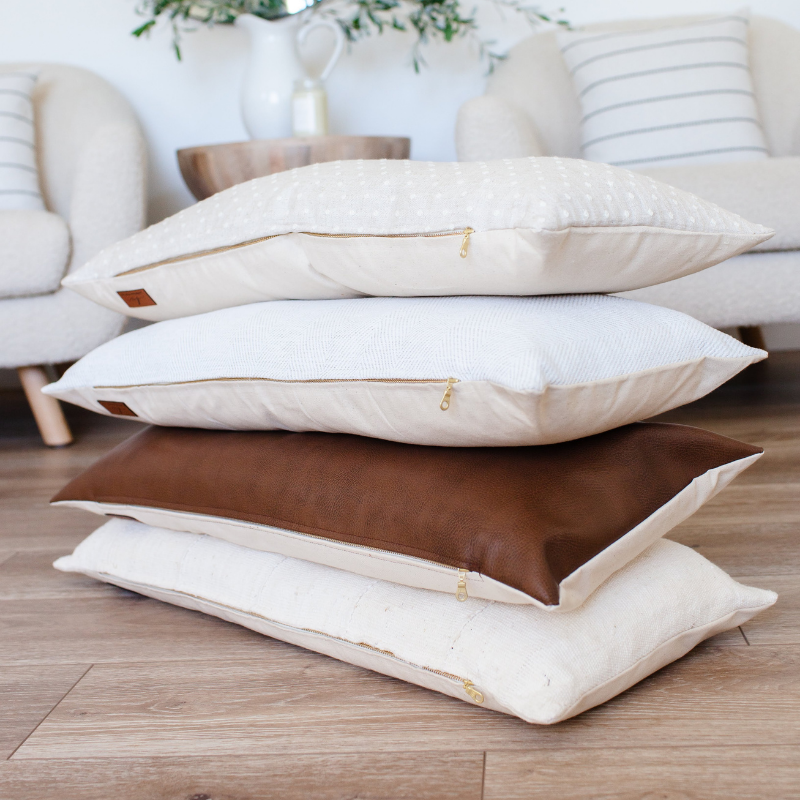 It all began with my my typography pillows. They will always have a place it my heart, but my couch needs a little more variety than just those. I decided I needed pillows that I could mix and match and change with the seasons. As a result, I created my textile line of pillows.
I'm a huge fan of layering a bunch of pillows on my couch - with all different sizes and patterns and textures. I think it adds some great dimension and interest to my living room, and it's so easy to adjust with the seasons! Here are some of my must-haves to create a layering look you will love!
Brooklyn will always be my baby. It could be because she is named after my little girl, but also because her neutral ivory color makes this cover the anchor of any pillow collection. Made out of authentic African mud cloth, no two pillows are the same. That means the pillow you purchase will be uniquely yours!
We could all use a little hope, right? I think we could all use this pillow as an addition to our layering combos, too! Her warm gray tone with ivory stripes also has enough visually interest that it is able beautifully stand alone. 
It is easy to love our little Loretta! Her sweet Ivory Swiss dots add texture to the front of a refined rectangular linen pillow cover. Loretta can easily be paired with other neutral pillow covers to create a calming and cohesive vibe.
Just like we all need a little grace in life, and I think we all need this pillow in our layering combos! Her simple stitched stripes add texture and visual interest to a calming neutral ivory pillow. 
This muted mushroom-hued velvet pillow cover blends with anything and calms layering combo. With it's sumptuous color and feel, you will be feeling like you are living a life of luxury!
Our girl Hallie is here for the layering party! Her soft and cozy bouclé makes a subtle statement that is balance with her natural hue. Altogether, this pillow adds soft visual and textural ambiance to a create a crisp looking combo. 
Finally, complete the look with some faux leather! Harlow is our go-to guy for adding the perfect visual accent to a well-curated layering combo. His rich dark brown hue in a beautiful vegan leather, takes any look to the next level. 
Could you see any of these on your couch? I would love to hear how you update your home as the styles and seasons change! Respond in the comments below our snap a photo and tag us @linenandivory.
XOXO,
Leave a comment
Comments will be approved before showing up.