Modern Farmhouse Spring Style Guide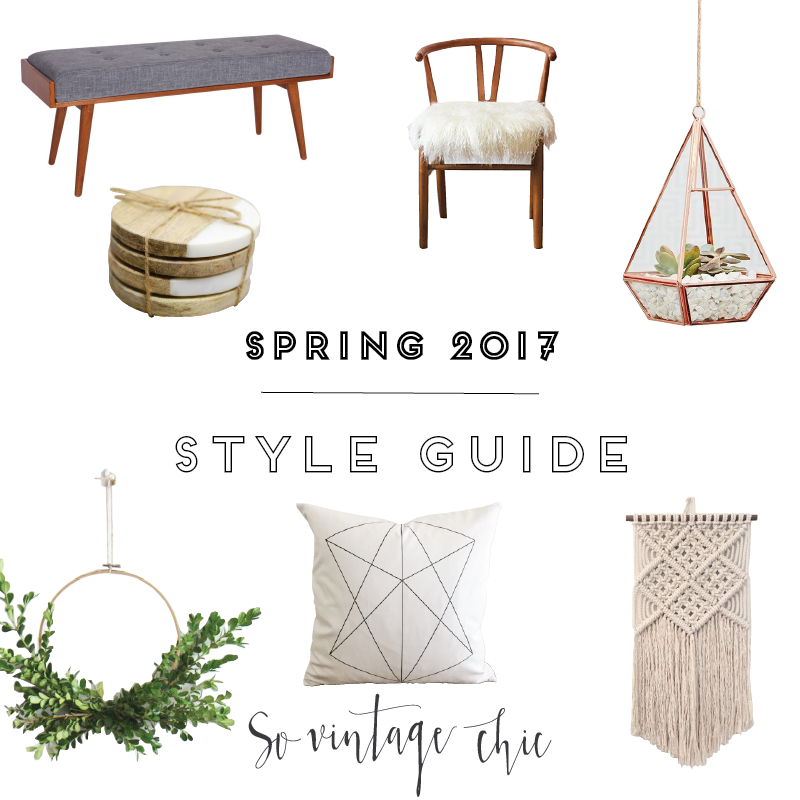 If you guys are anything like me, come January 1st, I'm so ready to PURGE all the Christmas things. All the red and green and garlands and sparkles and the trees in (almost) every room of the house get packed away and the house is clean and fresh again. My white home is back to normal, and things are a lot less crowded with seven less trees in the house (I know I have a problem!!). I love this new reality for about three days and then things start to look a little too plain.
The after-Holiday season is an awkward one to decorate for. We're all ready for a little simplicity, but we don't want our houses to look barren. We want to brighten things up for Spring, but it's still cold outside. I need the coziness of the holiday season to carry over in a more simplified way. 
This Spring season I'm adding in a few new touches. I'm still staying away from color from the most part. I'm just too loyal to white! But I'm adding in a lot of natural elements and textures: wood, stone, fur, greenery. I'm finding my house feeling updated and fresh but still cozy and warm. We all know this Seattle cold isn't going away any time soon! 
So here's my Spring Decor Guide - an assortment of styles and items that I'm seeing pop up all over the place this year. Not surprisingly, most of these are old styles that are coming back with a facelift (did anyone else swear they would NEVER put wallpaper in their homes? Yep, it's back.) 
Hoop Wreath | Fur Chair | Bench | Macramé Wall Hanging | Fur Stool | Rose Gold Terrarium | Wood + Marble Cheese Board 
1. Marble + Wood
This is the one I've gone absolutely crazy over. It's all over my house. Marble & Wood Side Table, Cheese Boards, Cake Stand, Coasters, I'm just in heaven. It's a classic combination I think will always look gorgeous, and it can fit in any home. Take the jump on this one. I don't think its going out of style anytime soon!
(P.S. obsessed with this cute wooden sign from @pine.and.burch!) 
Left: Rockett St. George
Right: Original Photo, Table from Target


 2. Mid-Century Modern
I was reluctant to accept this one because all I could think of was tacky color combinations and super-angular furniture (not quite farmhouse!). But I'm warming to the idea of these simplified and modern lines and styles. It reinforces that simple and clean look I'm going for this year. I'm loving the deep wood tones and sharp lines, and while my home hasn't been historically geared in that direction, I'm ready to throw some Mid-Mod pieces in to the mix!
 
Image: Design Milk 
3. Furniture + Fur
This is the heavenly combination that I just can't get over. My two loves made a baby and came out with furniture upholstered with gorgeous, cozy furs. I'm seeing this as an addition to the Mid-Mod look: a simple, angular chair or ottoman with a fun pop of fur on top. If you want a simpler option, buy a small fur blanket or rug (like this one from IKEA!) and lay it over an accent chair in your living room. And Voila – you've arrived!

Image: Target 
4. Geometric Prints
I'm having so much fun with geometric patterns and shapes this year. I'm seeing on textiles and on metal accent pieces, and it goes surprisingly well in homes of all kinds of styles. I even created a collection of So Vintage Chic Geometric Pillows that launched TODAY! Available (along with some other fun beauties!) now in my shop!  (And the 20% off with code BEYOUTIFUL is good through the end of the week!) Score!!
Photo by Ashley from @houseof5ive 
 5. Brass
Brass accents are showing up all over the place right now. It's a gorgeous alternative to copper (cleaner, less orange) and I'm loving it as a metallic addition to my spring décor. I'm seeing people install brass fixtures in bathrooms and kitchens (see my friend Ashley's here!), for vases and wall art, and even as an accent to furniture.
Left: @AshleyDSP on Instagram (Check out her amazing blog!) 
Right: Urban Outfitters
 6. Macramé
If anybody had a 70's love child side that's been dying to come out, here's your chance. Macramé. Wall hangings and planter holders and rugs and shelves are springing up all over the place and I'm hooked. I want them in every room. They're neutral and textured and so, so fun.
Left: Jo Jansen Co on Etsy
Right: Joy Loop Designs on Etsy 
 7. Hoop Wreaths 
Whoever said that wreaths were only for the Holidays was simply wrong. Greenery belongs on your walls and front doors no matter the season! These metallic hoop wreaths are my favorite right now. They're understated, sometimes super minimal and asymmetrical, and I just love the almost unfinished look they have. I hear they're pretty easy to DIY, too!
Image: Less Than Perfect Life of Bliss
8. Chunky Knit Blankets
 If you know me at all, you know I'm obsessed with all things cozy. There will be loads of cozy blankets and pillows covering my couches and beds every single month of the year. I can't resist buying a new blanket whenever I find one I love. This one is no exception. These thick chunky blankets are all over the place right now. Liz Marie Galvan recently did a Round-Up post of these wool blankets with a wide range of prices and styles, and you just can't go wrong. These are the definition of cozy.
Image: Liz Marie Blog
What looks are you loving this season? I would love to hear what your favorite new trend is to spruce up your home in the comments below! 
Leave a comment
Comments will be approved before showing up.