Stress Free Chirstmas Decor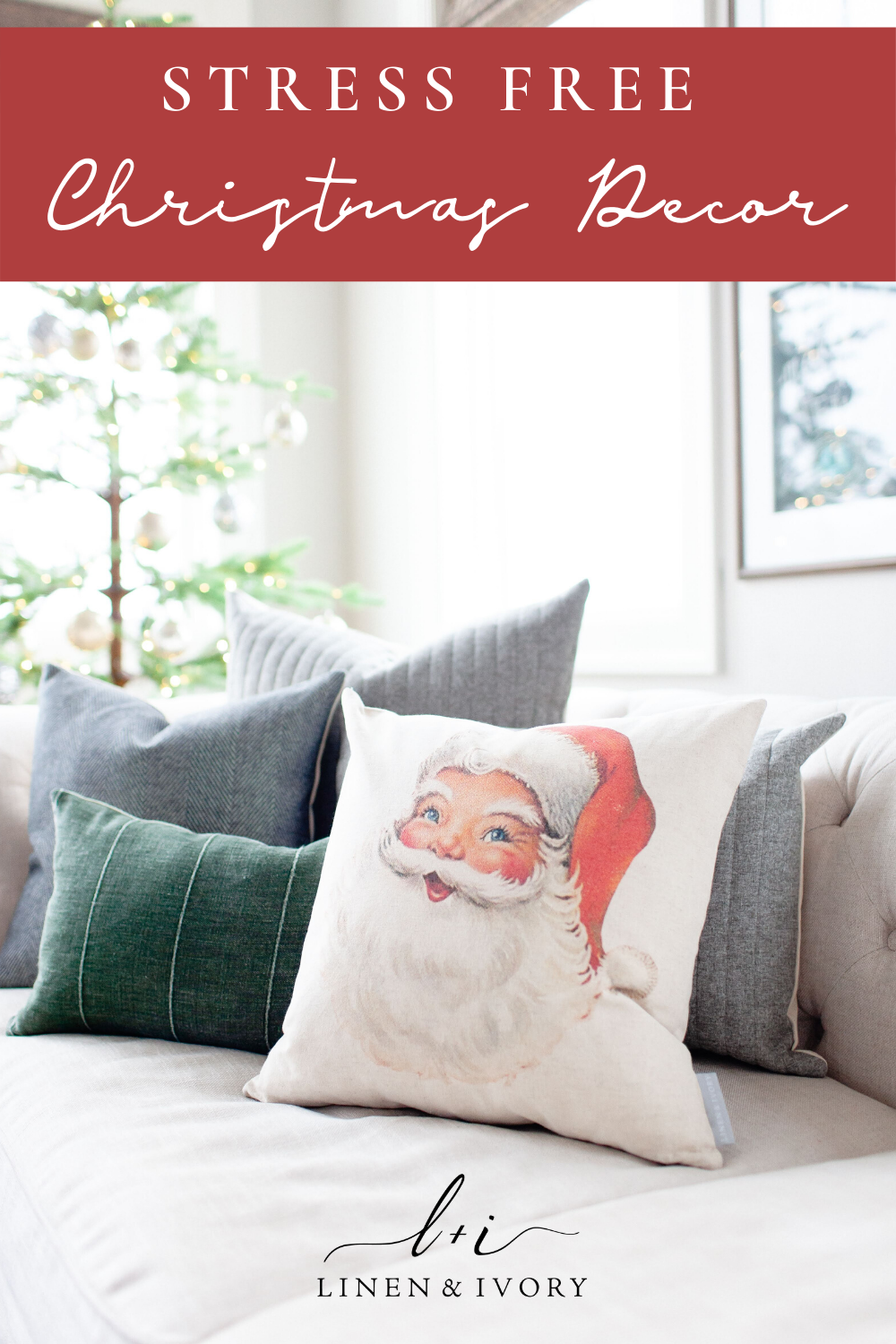 Regardless if you are an "early" decorator I know in or a "ONLY after Thanksgiving purist- I think it's safe to say that by December we can all be on the same page! I adapted a "decor strategy" around Christmas several years back and I thought other people might be able to use some of my tips & tricks. I'm pretty minimal when it comes to my every day decor, so my Christmas must follow suit.
Before you even begin to decorate the FIRST thing you need to do is PURGE the decor you don't love. Of course, you keep the sentimental ornaments and the family heirlooms, but lime green is not coming back any time soon, so just say GOOD BYE. Now onto my decorating tips...
1. NEUTRAL. Just like in every day decorating, my big pieces of furniture are neutral, I try to do the same with my Christmas decor. We are team fake tree all the way (don't worry, I do REAL garland lol). Every year trends change and I know in Blogger land it can feel like a lot to "keep up" when one year blush is the "it" color and the next year it's red. So with our tree I chose 3 basic neutrals that I have used for years now. A large collection of similar, round ornaments. Natural wool garland, & a neutral tree skirt.
2. GARLAND. A few years ago I saw my friends Christmas cards displayed like this & knew I had to do it too! You can buy real garland almost anywhere this time of year in Seattle (sorry desert dwellers not sure what to tell ya). I got mine at Costco and yes it's messy to put up, but it's SO pretty and for those that also go the fake route, you still get the real experience. You can use command strips or nails to hang it up, and I use these mini clothespins to attach the cards to the garland.
3. PILLOWS. I know, I know always talking about pillows, but for real! This is where storing the pillow covers is SO easy! I have my "set" pillows on my couch and I literally just trade out the covers seasonally. I try and mix plaids and felt with the linen to make it a little more cozy this time of year, some of my favorites!
Truett
Brenner
Merry Christmas
Vintage Santa
4. ACCESSORIES. I know we all love grandma's little Christmas villages, but if that's not a reflection of YOUR style then just say no. A few of my favorite accessories that I change up and use all over the house are: bottle brush trees, gold or black candle sticks & wood signs.
5. WRAPPING PAPER. I love to coordinate my wrapping! I usually pick 2-3 patterns and 2 solids to help bring interest and still have it coordinate. I'm OBSESSED with these patterns at Target & Minted this year!
 Hope you are inspired to decorate and NOT stress! Happy Holidays!
XOXO,
Kendra
This post may have some affiliate links that I do earn a small commission from, but is no additional cost to you!
Leave a comment
Comments will be approved before showing up.