Summer Showcase: Black & White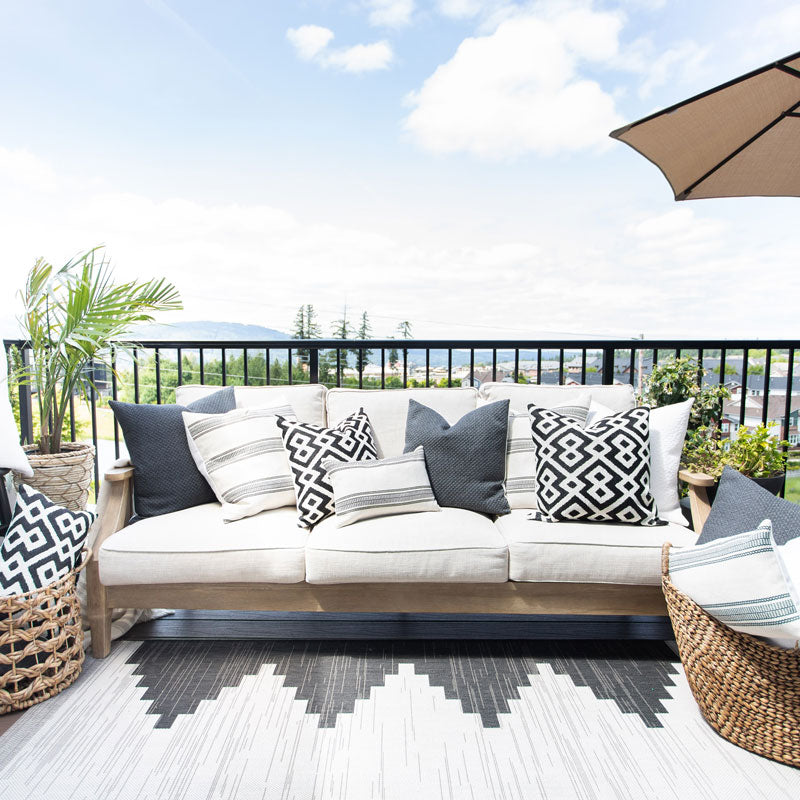 Black and white always feels right. Whether in fashion or interior style, it is a trend that stands the test of time. The stark yet stunning contrast of these opposing colors heightens drama and calls attention. Black adds sophistication and a focal point; meanwhile white acts like an untouched canvas for creative expression. But you don't have to stick with the old-school combo of black and white--mixing in other colors like gray will instantly make an impact on any room! 
I have taken this timeless trend outdoors with the black and white mini section of my huge Summer 2021 Collection. I am excited to introduce you to the pillows and help you bring out the beauty of black and white!
INK: Ink shows off snappy black stitched stripes that pops against a subtly textured ivory background. 
CARBON: Black and white's best bud is definitely dark charcoal gray. Carbon may be solid in color, but its plump diamond patterning offers quilted comfort and style. 
ONYX: Bold black and ivory ikat punches up the front of this unforgettable pillow cover. 

MIXING PRINTS
Long gone are the days of worrying about mixing prints. Patterns come to play! In order for your look to not appear chaotic though, I do recommend scaling the sizes of your prints. For example, Ink's gently stitched stripes pair beautifully with Onyx's bold geometric design. The ultimate goal is to compliment, not compete!


SELECTING SIZES
You have the color palette and the prints, but now you go to select the sizes of pillows and see so many choices.... How do you know what to choose? If this scenario sounds familiar, here's some help. Let's look at this sofa. I like to start with 2- 22" pillows on each side, and layer 2- 20" pillows on top. To add a dash of asymmetrical style for a modern finish, I complete the look with a 14" x 20" lumbar on one side of the sofa. Ta-da! you have the perfectly sized pillow combination!


DO IT WITH A DESIGNER
If you have tried all the tips and your pillows game is not up to par, let the designer come to your rescue! I get that your space may not look like a styled photoshoot, or a Pinterest pin... yet! Leave it to Linen & Ivory to transform your look into one you love with a Pillow Design Consultation!





Have you been inspired to bring black and white to your backyard? Capture the look and tag me on Instagram @linenandivory! I always love seeing my pillows find a permanent place in your home!



XOXO,
Leave a comment
Comments will be approved before showing up.