Summer Showcase: Every Shade of Gray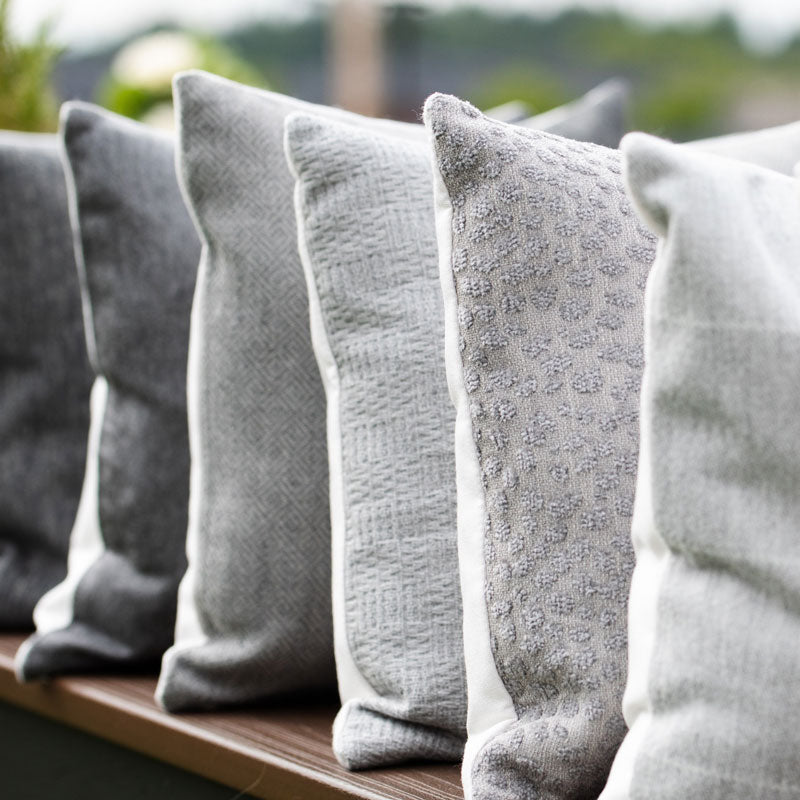 Gone are the days of being afraid to go gray. In fact, in the design world, gray couldn't be a more coveted color. Gray has become a go-to neutral that is both contemporary and sophisticated.  I am on board with this trend and created a mini monochromatic gray series as a part of my new Summer Collection! Today, I am rounding up our gray pillows and showing off every shade. There are no 50 Shades of Grey here, but from bright and almost white to deep charcoal, there is a perfect match for everyone.
If ivory is more your jam, but you still want to give gray a go, meet Cirrus. It has fine, gray stripes that line the front of a pristine ivory pillow cover. The sophisticated look blends well with anything.


Checkmate also proves that ivory and gray play well together. The combination of these cool colors in a pretty plaid offers a classic yet contemporary style. 


Pearl is playful, yet sophisticated. Her stitched, silvery gray patterning stands out on a crisp ivory cover creating a gorgeous, textured pillow. 
Take a tame trip to the wild side with Charity! Her textured tonal leopard print prowls on the front of a soft light gray pillow. 
A subtle basketweave pattern adds visual interest and texture to this solid light gray pillow. Fog's quilted weave creates a soft-to-the-touch addition to your outdoor decor. 
Show off a spectrum of shades with this unique pillow. Ember's flowing ombré patterning in soft, gray tones gives a calming effect to the front of a sophisticated pillow cover.
Pebble is like a painting in pillow form. Shades of peaceful gray interplay as watercolor brush strokes on the front of this modern pillow cover. 
Ziggy is confident and boldly says, "I'm here!" His gray chevron patterning creates stripes and eye-catching interest on the front of a refined pillow cover.
This is no plain pillow! Look real close and you will see tonal stripes give subtle texture and visual interest to this warm charcoal gray pillow. 
Add a pop of pattern to your patio with Shadow! It's thin ivory stripes stand out against the dark charcoal background of a fine, polished pillow cover.
These pillows prove that every shade is beautiful! Show off your favorite shade of gray by tagging us in your pillow pics on Instagram @linenandivory!
XOXO,
Leave a comment
Comments will be approved before showing up.