Summer Showcase: Indigo is In!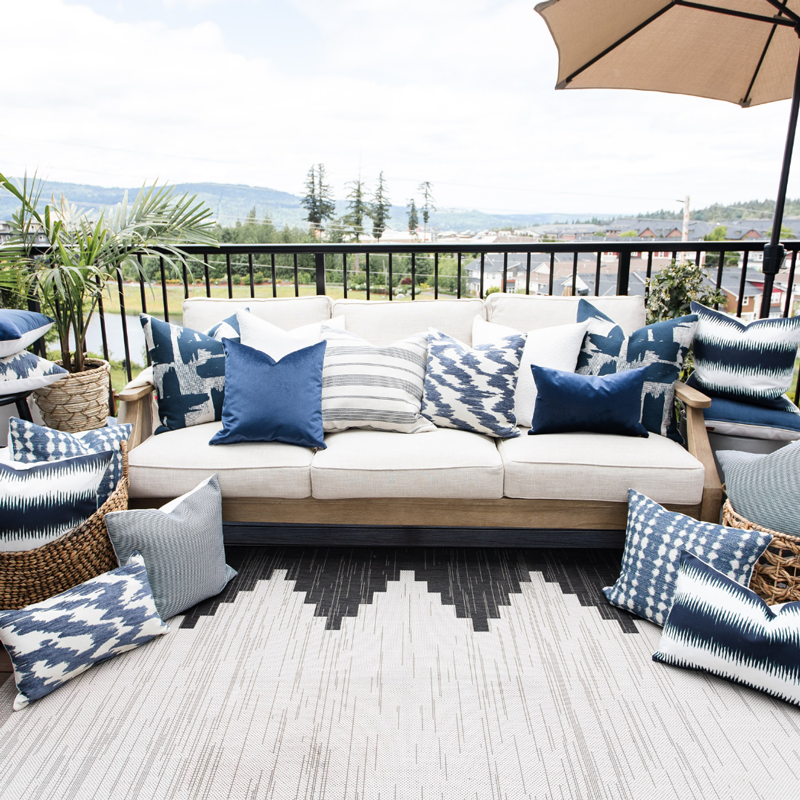 The sun is shining, the heat is rising, and the pillows have made their way to the patio! With the launch of our new Summer Collection, I can finally say it feels like summer. This collection is BIG, like 30 NEW pillows, and 5 new mini color collections big. Since each mini collection deserves full attention, I was inspired to start a limited blog series called the "Summer Showcase." In each of these posts, I will be highlighting one of the color stories of the collection and offering my styling tips and tricks!
Today, it's all about indigo! This popular shade in the interior design world is authentic and bold. When combined with unique textures and patterns or paired with neutrals, it makes a profound statement. When taken outdoors, this color complements the clear blue sky and creates a serene atmosphere for your backyard. However, I do have a few tips up my sleeve to take this color and your outdoor haven to the next level of luxe. 
1 | PICK A STYLE
Start with the style. What resonates with you? The best part- this isn't a test! There is no right answer. You can go traditional and be "matchy-matchy", or opt for a modern asymmetrical look. The most important part is that your space reflects who you are and is a place you feel at home. 



Pillows on the left: Alabaster and Midnight
Pillows on the right: Cobalt, Alabaster and Azure


2 | USE A VARIETY OF SIZES
Don't stick to just one size- mix it up! For sofas, I recommend starting with a 22", layering on a 20", and finishing the trio with a 14" x 20" lumbar. For chairs, try a duo of a  20" completed with a 14" x 20" lumbar. 
 Pillows pictured: Fog, Delta, and Midnight


3 | PLAY WITH PATTERN
Patterns come to play! When styling your space, don't be afraid to mix and match materials, textures, and patterns. I always start with a solid which acts like a canvas for your combination. Next, I usually integrate stripes, creating a line for the eye and leading to the focal point. The focal point is usually a punchy pattern, interesting texture, or bold pop of color. 


Pillows pictured: Alabaster, Ocean, and Pearl



4 | LOOK AT THE BIG PICTURE
Step back and look at your space as a whole. From this perspective, you will be able to see how you can balance colors and patterns to create not just a space, but an atmosphere. You could even consider adding finishing touches like an outdoor rug or throw blanket!


5 | DO IT WITH A DESIGNER
If these tips sound overwhelming, I am here to help. I understand that not everyone sees couches and chairs as canvases for pretty pillows, but I do! Let me do the work, while you sit back in the sunshine! For only $49 you can get a full pillow design for your space! The best part- the consultation fee is applied directly toward your pillow purchase. If you are doing the math and thinking that basically makes it free, you are right! 
Pillows pictured: Charity (Ivory), Denim, and Slate
Are you ready to go all in for indigo? Show me your pillow combinations and outdoor style by tagging me at @linenandivory on Instagram!
XOXO,
Leave a comment
Comments will be approved before showing up.