Summer Showcase: Nothing But Neutrals ( and a Little Blush!)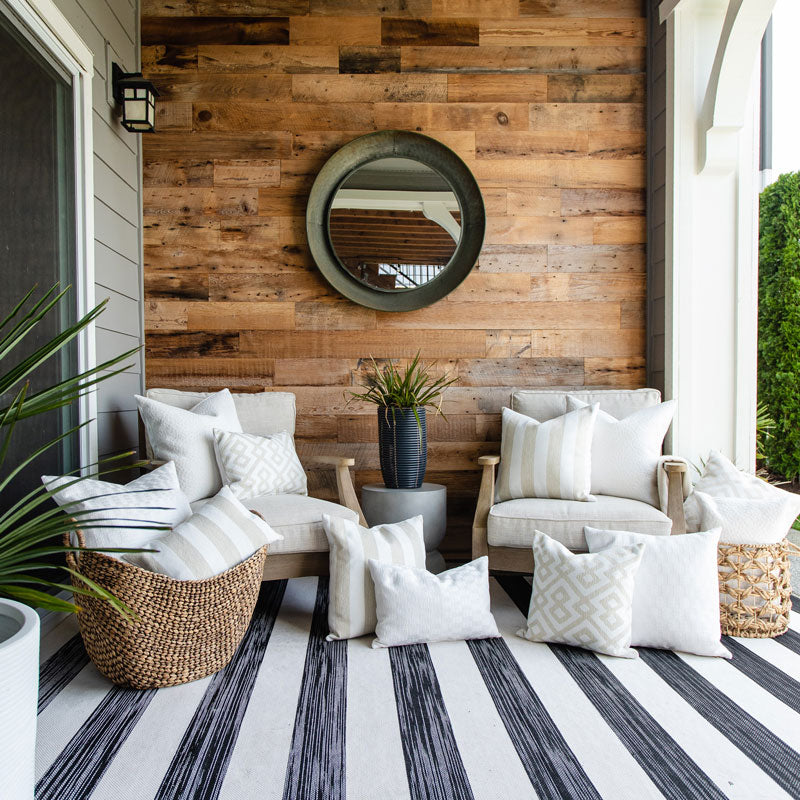 We have come to our final post in our Summer Showcase series! Today, its nothing but neutrals. Well, that's not entirely true. I couldn't help myself and added a dash of blush to my neutral collection this summer! The combination of beachy sand + feminine blush has me ready to melt into these patio chairs. Take a look to see how its done!
PICK A PALETTE 
Neutrals come in a variety of hues, so it is still important to hone in on the exact tones you are choosing for your design. I love to create a palette or mood board as a way to focus my design ( and excitement! ). My brain can easily be boggled with inspiration and I have to reel it in and be intent on the elements of each design. The palette helps keep your ideas precise and balanced. 


PAIR YOUR PATTERNS
Are you ready? I am about to bust a myth too many people believe. Here it is: You CAN mix patterns! Now that you are breathing a sigh of relief, let me give you the scoop of how it's done. It comes down to a simple formula: solid + stripes + geometric. This formula is flexible and changes based on different patterns and textures you are playing with, but 99% of the time, it works like charm!




KEEP AN EYE ON SIZE
When it comes to arranging pillows, you must pay attention to the sizes you select. Remember, pillows are decorative accents and must be scaled to fit your furniture. If you pick a pillow too small, the pillow will be a second thought. 
While all sofas are different sizes, a good formula to follow is starting with a 22" pillow, adding a 20" pillow, and completing the combination with a 14"x 20" lumbar. An odd number of pillows like this trio creates a must-have modern look.
Pillows pictured: Monaco, Alabaster, and Blush


CALL ON A PILLOW PRO
If you took the tips and your pillow combinations are not on point, I am here to help! I know it is frustrating when your space doesn't look the same as the perfectly curated photographed spaces online, but don't despair. At Linen & Ivory, we can take your preferences (maybe for neutrals!) and put together the perfect pillow arrangements for your space!



Did you try some of these tips? I want to see! Tag @linenandivory in your post on Instagram and show off your covetable pillow combos! 


XOXO,
Leave a comment
Comments will be approved before showing up.