Throw Blankets for All Seasons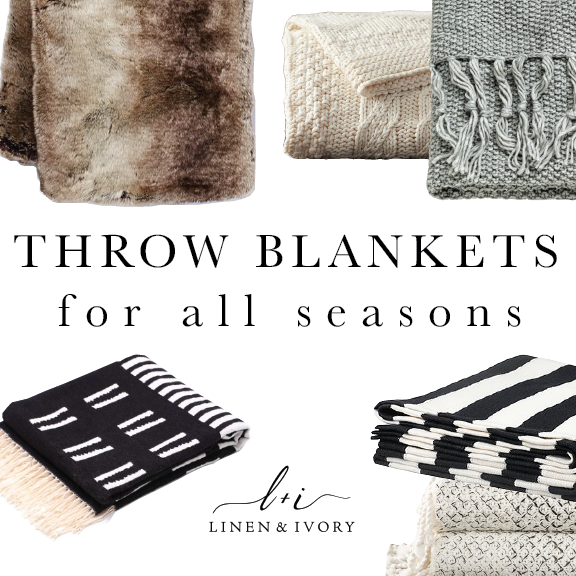 If pillows are my first love, throw blankets are easily my second! It doesn't matter what season it is, you can always find throw blankets in my home. Scattered over couches, on beds, and in cabinets all over, there is almost always a throw blanket within arm's reach. Whether winter or summer, throw blankets are never unnecessary. You know me, coziness is a core value around here! 
Even though we're moving towards summer, you can always find throw blankets that fit the season. Here in Seattle, we should be moving toward summer, but of course the days are still cold and grey and we are literally breaking records of days without sun. (Way to be an overachiever, Seattle.) So while everyone else is getting rid of knits and fur and wool, I'm spending my time keeping things cozy because I might as well take advantage of the grey days while I have them. 
Some favorites from this list: That fur throw. I've gifted this one, and I've received it as a gift, and it's earned a permanent place on my couch. Whoever said that furs were for winter was so completely wrong! This one is so comfy and just an amazing addition to a living room. I'm also loving that patterned throw from Target. That black and white tribal look is so in right now, but this throw can literally be adapted to so many styles. It's a fun piece to mix in for summer, while still holding onto that coziness! I'm also obsessed with those linen metallic throws from West Elm. They're light and airy, and offer a fresh pop of color that works so well in the summer. I may be ordering that one sometime soon! 

So look around and enjoy! Let me know which ones you love, and how you are holding onto some cozy in your homes as you move towards summer! 








Leave a comment
Comments will be approved before showing up.