What your zodiac sign means for your pillow style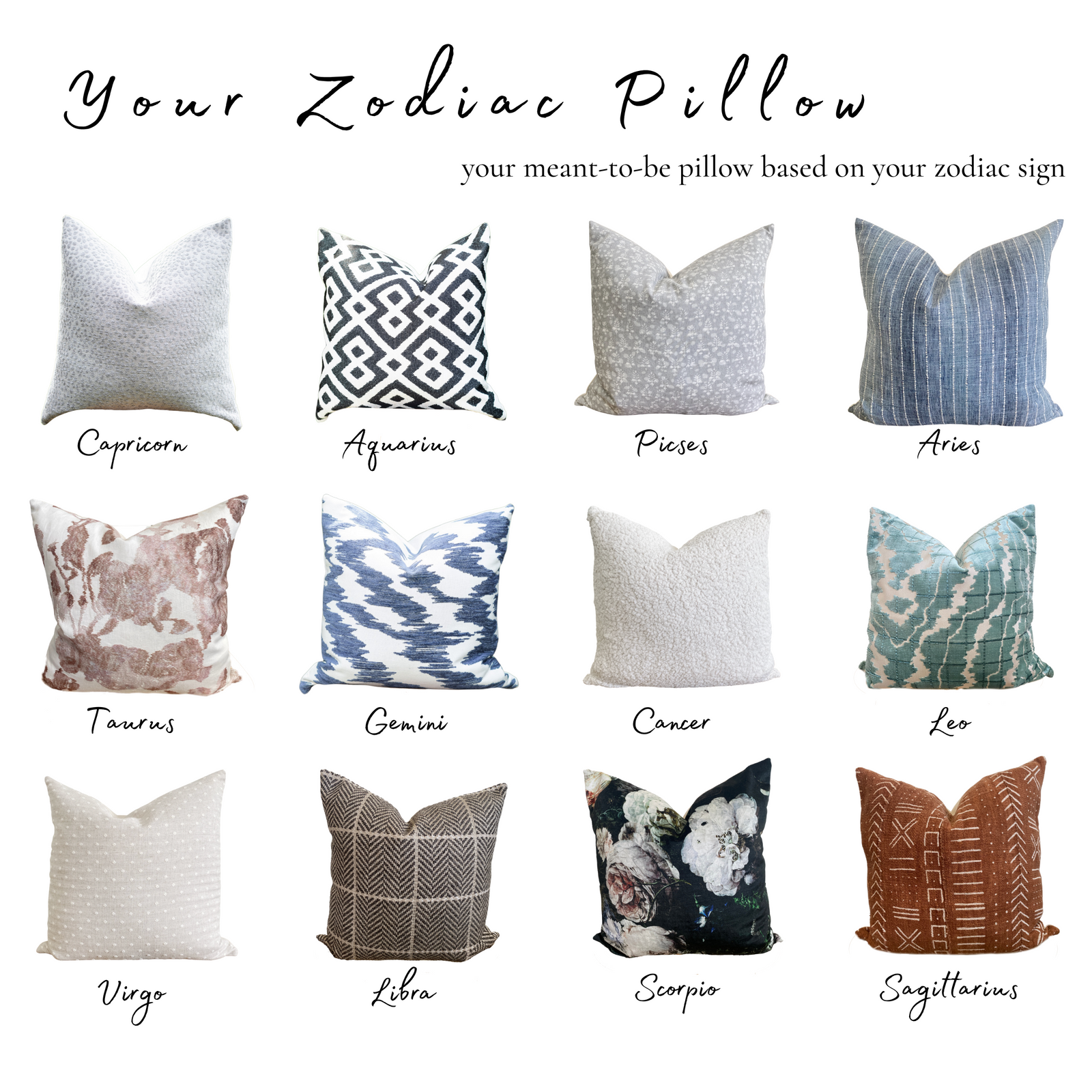 Zodiac signs can tell us a lot about our personalities down to our strengths and our weaknesses. We thought if they can tell us that much about ourselves, why not what kind of pillow style suits us?? We're all so different and so are our dream pillows! Keep reading to find out what pillow style is yours based off of your zodiac sign.
Capricorns are very ambitious but sophisticated. We felt like a 'basics with a twist' was the best style for you Capricorns. Charity is the perfect balance of simple all the while being fun and elevated. 
Aquarius' are unique, and they aren't shy about it. They want the world to see their creativity. They are bold, and so is Onyx.
Pisces are kind-hearted, gentle, yet creative people. We felt like a whimsical and romantic style fit them best. Willow is exactly that.
Aries are leaders. They are confident and run the show! Jean is a bold choice with its color and stripe detail. It can be used as a base pillow to work off of, or as an accent pillow to tie everything together.
Taurus' love a serene and relaxing environment. They are also ruled by Venus, meaning beauty is important to them. We chose a pillow that adds that beautiful and serene feeling to your home, but of course is A+ comfort too.
Our Gemini friends are out-going, fun, and adaptable. We felt like something that was a fun pattern but still easily adaptable was the perfect match for you guys. That's exactly what we love about Delta!
With Cancers, comfort is a MUST. So we chose our comfiest and coziest pillow, Avery. Enough said! 
Leos are a bit of a risk taker, and that's why we love them! We wanted a statement piece that felt bold, and even risky to some. Sylvia brings that extra something to your space that only a Leo could bring to your life. 
Virgos are ladylike, but not over the top. We love the polished feel they bring to the table, and that's exactly what Loretta will do for your space. She is just the perfect touch of feminine.

Libra's are very good with aesthetics. We think their style would be 'timeless pieces with a twist'. Wesley is what came to mind immediately. They always want to avoid conflict, and this is exactly what Wesley is good at. It really does look great with everything.
Scorpio's are determined and a true force. We wanted their pillow to be strong and as big of a force as they are. That is why we picked Isla. With her strong pattern and assertive velvet, she makes a statement. 

Sagittarius' are complete free spirits. They just want to have fun! Boho is the perfect style for you adventurers. Sedona is the best combination of boho meets chic to add some fun to your home. 
Grab your zodiac pillow today and then show us what your sign is on Instagram by posting and tagging us at @linenandivory!
XOXO,
Leave a comment
Comments will be approved before showing up.