White Decor (Anything, BUT boring)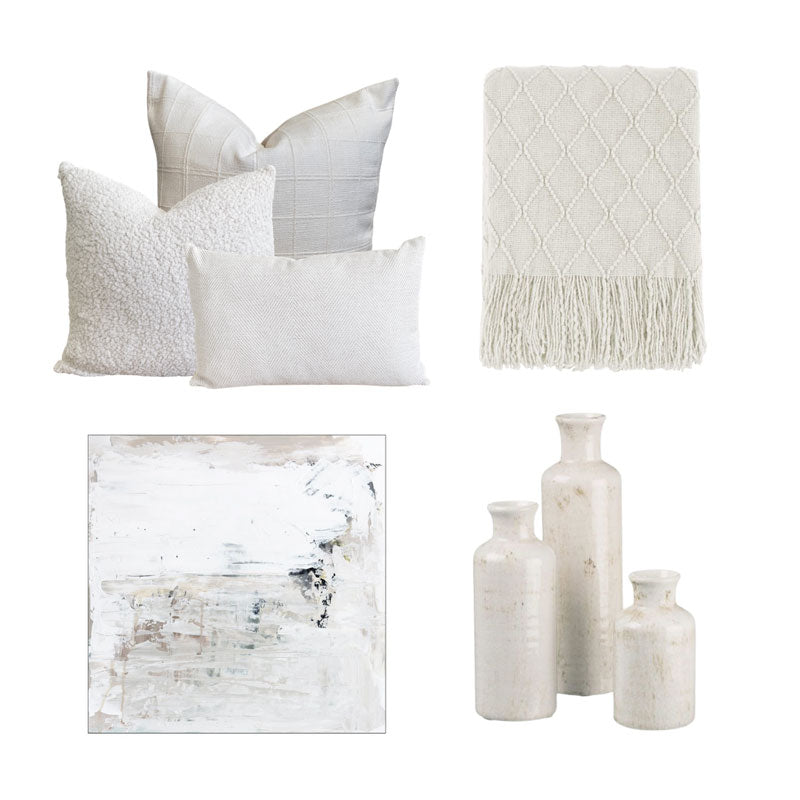 WHITE....I feel like for a long time white got a bad rep of being "boring" or "not creative enough", but let me tell you, when done right, white is ANYTHING, but boring. Trust me! There will still be the people that ask if the exterior of our house is being primed (lol). And when I told our interior painters I wanted everything white they looked at me like I had a 3rd eye! But when done correctly, white gives you room to breathe, and feels clean, calm, peaceful. You learn the beauty of mixing subtle patterns, various textures & creating a neutral palette for your entire home.

I think the "secret" is to have a variety of textures, patterns that compliment, but don't compete with each other. So I've broken it down to some of my favorite things to pair together to create the perfect serene & calm living room or bedroom.
Soft blanket with subtle texture- There are so many good options out there! Fur, fringe, ones made from chunky yarn! You can drape this on the back of a chair, put it in a basket or fold it at the end of the bed!


I love baskets- they are an easy and inexpensive way to add interest & dimension to a room. You can get them in a variety of sizes! I have this one from Amazon that I use to corral (hide) all sorts of things throughout the house!
 I know you are shocked 😂 . But really, pillows pull a space together to put the "finishing touch" on any room! I have gathered some of our favorite neutrals to create different combos! It's just SO fun to see how well they compliment each other and can also compliment pillows you already have on hand!
Pillows pictured: Brooklyn, Hallie, and Loretta
 Pillows pictured: Kiah, Avery, and Rylan
I'm not going to lie. This is one I struggle with A LOT. Art is so personal and subjective, and like pillows, really does tie a room together. I recently discovered that Lindsay Letters does beautiful abstract paintings! You can customize the size, frame, etc. Lindsay's family recently had a horrible tragedy with her daughter Eva that you can learn more about on her blog. I love being able to support another mom boss especially during such an emotional and financially taxing time. I bought this piece from her last month, and can't wait to add it to my collection!
These are a perfect addition to a room! They can double as a foot rest or extra seating. Plus they are an easy and affordable way to be "trendy"! You can score these pretty much anywhere from Pottery Barn to Home Goods to Amazon! Here are a couple of Amazon favs!
MISC. DECOR
These little pieces are what can help put a finishing touch on a room. Here are a few affordable and fun accents that I'm loving on shelves, tables and styled around my home!
Hope this gives you some white inspiration. Make sure you are following us on Instagram @linenandivory
& tag us in all your favorite white inspired decor!


XOXO,

Please Note: There may be some affiliate links that I receive a small commission for at no additional cost to you- this allows me to keep curating collections you love and can enjoy!




Leave a comment
Comments will be approved before showing up.