C I T Y G U I D E // Seattle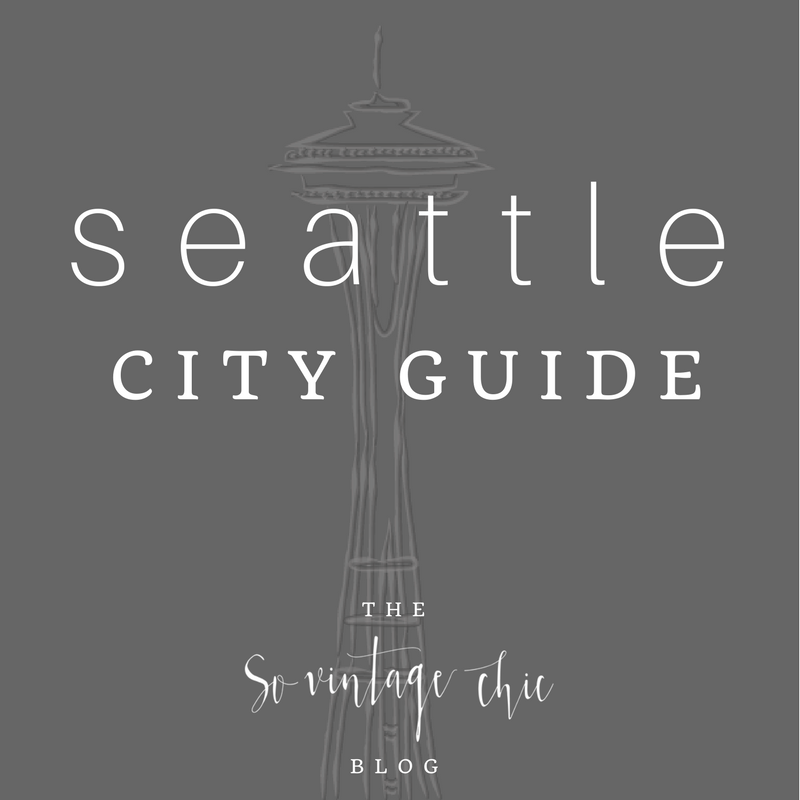 I love being in the city. I love the hustle and energy that I feel when I'm walking through a big city. It feels bigger than myself. It feels like mystery - like it would take forever to discover it all. Ryan and I have always spent a lot of time in cities far away from our home. We go to Portland often, because my parents live close and offer to take the kids for weekends at a time so we can have some time to ourselves (thank God for grandparents!). We've also started to venture into other cities - San Francisco, San Diego, Dallas, and we feel the same about it all. We love that each city has such a distinct flavor and feel, that every city has its own thing to offer. 
But, ironically, we have always lived SO close to Seattle and haven't spent much time there. It makes sense - we get distracted by our own busy lives and just don't take the time.  We live about half an hour away from downtown Seattle so it's far enough away to feel like a TRIP on a date night. Especially since the traffic struggle is REAL here.
But lately we've made a goal to spend more time in our city. Instead of going to our regular happy hour place down the street for date night, we've started to venture further into Seattle. We are total foodies and it seems like every day a new spot pops up in a random neighborhood and we have to check it out.

Our kids are finally getting to the age where its fun (more like survivable) to spend a day in the city with them. Sometimes we go alone, sometimes we bring the crew, but we're learning to love our city and having so much fun with it!
So here are my favorite spots, some old and some new, date night spots and daytime activities. And here's my encouragement, whether you live in the Seattle area or elsewhere: discover your city. Find the spots you love. Make memories with your family. Take the trip even if you might spend time in traffic. It's so much fun to be right in the middle of it all - traffic and culture and people and lights - there's just something magic about it. 
Image via Seattle Mag
If there's one place you have to visit in Seattle to get a perfect feel of the flavors of the city, it's here. The Walrus & the Carpenter is a gorgeous little restaurant next to the water in Ballard, and it's famous for fresh raw oysters and amazing wine pairings. Here's what you need to do. Order bread and butter when you arrive and eat it while you scour the menu. Then move on to oysters. All of their oysters are sourced from the Seattle area so you're getting a perfect taste of Seattle when you have these. Talk to your waiter about flavors you enjoy, or what ones might be best if you're a new oyster eater! Have them help you choose a wine that pairs well. Then move on to some small plates. Get a variety of things to share with the table. It's all good. And then just enjoy the experience! 
Secret: Oyster Happy Hour is every weekday at 4pm. Oysters are the cheapest at 4 and get gradually more expensive as the night goes on. So get there early! 
Image via General Porpoise
General Porpoise is SO. FUN. It's owned by the same people as the Walrus & the Carpenter (among other AMAZING places), and every detail is just so perfect. Everything is open and bright white and marble, with hot pink accents. (of course I just want to talk about the design of it) but the donuts will change your whole world. They are fluffy and not too sweet and available in all these amazing seasonal flavors. (Lemon Curd, Orange Marmalade, or Chocolate Marshmallow, anyone?) Oh and you eat them with champagne, of course. You just can't fail here. 
Image via Seattle Refined
This is our go-to activity with the kids. The Ferry Service in Seattle offers a Sunday Ice Cream Cruise for families every week, year-round. It leaves from Lake Union Park (which is the cutest area - take time walking around there when you go!) You get about an hour-long cruise of the lake and the kids eat ice cream. They're happy, you're happy. 
I LOVE the London Plane! Here's the situation: it's a bakery, a flower shop, an event venue, AND an incredible restaurant. It's on Occidental Avenue in Downtown Seattle and it doesn't matter what time of day you go. It will always be amazing. Their menu is seasonal and so inventive - you'll never get the same thing twice. Last week I had an Earl Grey Panna Cotta there that left me speechless! If you go in the day you can get all kinds of toasts and pastries that they make in-house. It's all good. And you get to stare at fresh flowers while you eat. What's not to love?
Image via The Fat Hen
The Fat Hen is just beyond words good. It's this tiny breakfast joint in the neighborhoods of Ballard, and the quality of its food is evidenced by the fact that there are always lines out the door waiting to get in. Everything on the menu is good. (Benedicts, toasts) I like to order a french press to share, and then the Camicia Egg Bake. It comes steaming hot in a cast iron skillet, filled with tomato sauce and mozzarella cheese, basil, and a few eggs cracked on top and baked to perfection. You get a few slices of crusty bread on the side to sop all that goodness up. It's everything you could want in a brunch. 
Image via Tavern Law
This is a fun speak-easy bar off of Madison Street in Seattle that Ryan & I love to visit on Date Night! You have to make reservations and enter through this sneaky little bank vault. The ambiance is cozy and intimate, the food is good, and the cocktails are out of this world. The staff is so helpful - you can describe what you like and they'll create a cocktail catered to your taste. It's a fun experience and I've never been disappointed! 
I could go on, but I'll keep it simple! Those are my favorite spots. 
I want to hear from you! If you're in Seattle, what are your favorite spots? I'm always looking for new places! If you're not from here, what's you're favorite city? Where do you keep going back to again and again? 
Want to show a little city love in your home? Need a thank-you gift? Our City Pillows & Tea Towels are perfect to add some hometown pride to your home! 
Check them out here! 
Happy Friday!
xoxo,
Kendra
1 Response
Leave a comment
Comments will be approved before showing up.