Why I LOVE my Rented Home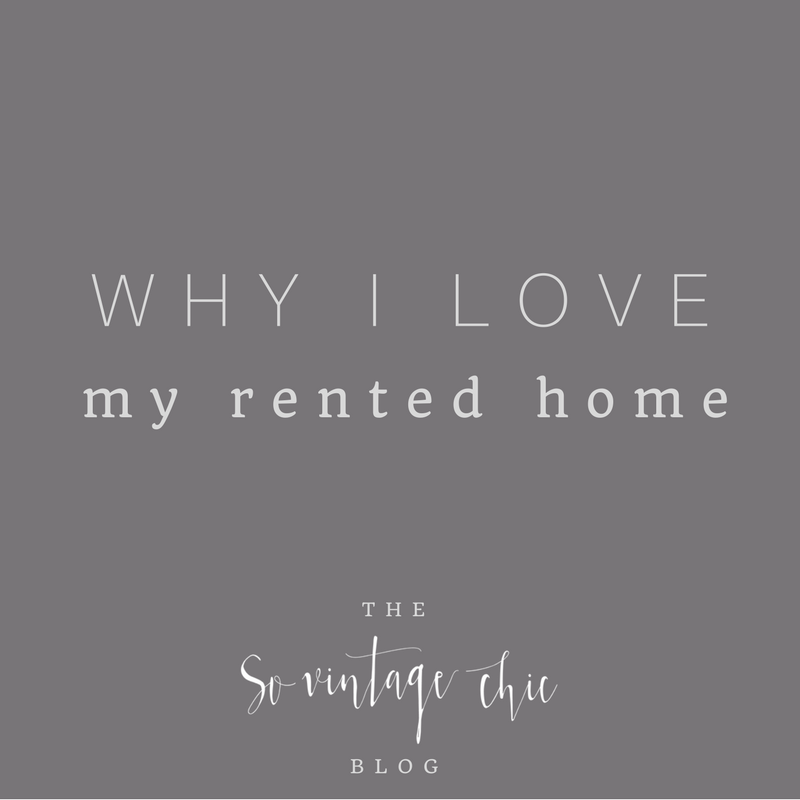 If you had asked me five years ago if I loved my home, I would have laughed in your face. "This thing? No, no. We're only here until we can afford something better." And you could tell by looking around that I didn't put much thought into the decoration. When you see everything as temporary, it's hard to invest the time in making it beautiful. Learning to love my home has been a LONG process of adjusting and embracing imperfection.

 


Being in the home design business is a blessing and a curse sometimes. I have always had an eye for home decor (I studied Interior Design in college!), so I have always known the things I loved. Of course my style has changed over the years, but I always felt like I had a good idea of what makes a home beautiful.

The problem was that when we were newly married, we didn't live in our dream home.

We lived in a cute little townhome when we got married. We loved our home but it was small and we quickly grew out of it once kids came into the picture (they have that crazy habit of taking up SO MUCH space, you know?) So we decided to move, but all we could afford at the time was a rental. It was not what I wanted to raise my family in, so my constant inner dialogue was "It's only temporary, it's not forever."
But you know what that attitude gave me in return? An ugly, undecorated home. I didn't hang pictures on the walls, I wouldn't invest in any nice furniture (even when we did have the extra money for it), because it never felt like my home. It was a little house full of IKEA furniture (God Bless IKEA, but eventually you just have to move on!), with no personality. When I think back on that house it makes me sad because I know that I could have cherished those moments a little more, gotten a little more settled in and comfortable, and our experience there would have felt a lot more like home.

Fast forward a few years, we moved again (our family just kept growing!). But, of course, we still weren't ready to buy our dream house. We're renting again. We've been here a few years now and I did things differently this time. It is FAR from perfect. I don't have a white farmhouse kitchen, and my house is not as beautiful as my Instagram feed, but it's home.
I decided that I was going to stop letting imperfection hold me back from loving my home.
So we really moved in this time. We saved up and invested in some better furniture. Pieces that would last us for a lot of years, instead of things that would just get us through.  We got a nice couch and a bed that will move along with us wherever we go. I couldn't make a complete departure from IKEA though. You can't beat their cheap curtains!
This house isn't my dream home. I would love it to look like the gorgeous homes I get to post about every day, but it's just not where we are yet. This kitchen – who decided these things would look good together?! That backsplash is gross!
But I didn't let those things hold me back. My house is decorated now. It feels like me and my family really live there. There are pictures on walls and you can see my style in little details all over the house. It's ours.

My favorite compliment to receive from people is that my house feels homey. That's everything I want. I want a place for my friends and family and kids to feel at home. It is so important to me to create a space where people feel that way.  In this Home Design world, it's so easy to get caught up in the perfection of it all. We all want to have the house of our dreams. Some of us might be there, and a lot of us aren't quite there! But here's the point: Home is a state of mind. It's possible to create home wherever you are. Whether you're renting or living in your ideal home, it's absolutely possible to love your home. Find out what makes you feel at home. Spend a little extra time throwing up some decorations if you haven't yet. Put down some roots. Just don't let "it's temporary" rob you from enjoying your home right now.

Here's a little tour of my perfectly imperfect rental home. A few years ago, this would have terrified me. But now I'm so happy to share the place that I get to call home, even if it doesn't look exactly like the home of my dreams. 
My front porch area gets a little more fancy as the seasons progress, but right now I'm loving the simplicity. A fun chalkboard Monogram and square wreath is all we need! 
Where all the magic happens. This is my favorite room. This couch was one of the first things we invested in for our home. I'm always running around like a tyrant making sure my kids don't get their sticky fingers all over it, but it's worth it. I LOVE my living room. 
The object of so much frustration. What on earth am I supposed to do with this gigantic built-in? Even so, I've worked with it. We added some fun accents here and there, and I love that fireplace in the winter! 
My escape! This is our Master Bedroom. This bed is the second major purchase we made and I think it might be my favorite item in our home! Those wood signs above our bed are the lyrics to a song we used in our wedding ceremony. My friend Tara from Between You & Me Designs did it for me and I love the personal touch! 
That kitchen. Sometimes I just have to pretend that the cabinets and backsplash don't even exist. So wrong. But, this is where all the food-related things happen so I would say it's arguably the most important room in the house! 
Our Boy/Girl room! I had the hardest time styling a room that would make my 7 year old daughter and 4 year old son happy! I personalized their beds with these pillows from my shop! 
Last but not least... our baby girl room! She's quickly outgrowing her crib but I'm holding on to this neutral and light pink baby room as long as I can. I accented with a cotton wreath and that fun banner and a few other fun things, but kept it simple for #3! 
SO that's my home friends! I'd love to hear how you make your home a place you love even if it's not your "dream" home yet! Comment below!
Xo,
Kendra
4 Responses
Leave a comment
Comments will be approved before showing up.