Welcome to the Dollhouse: the "BEFORE" tour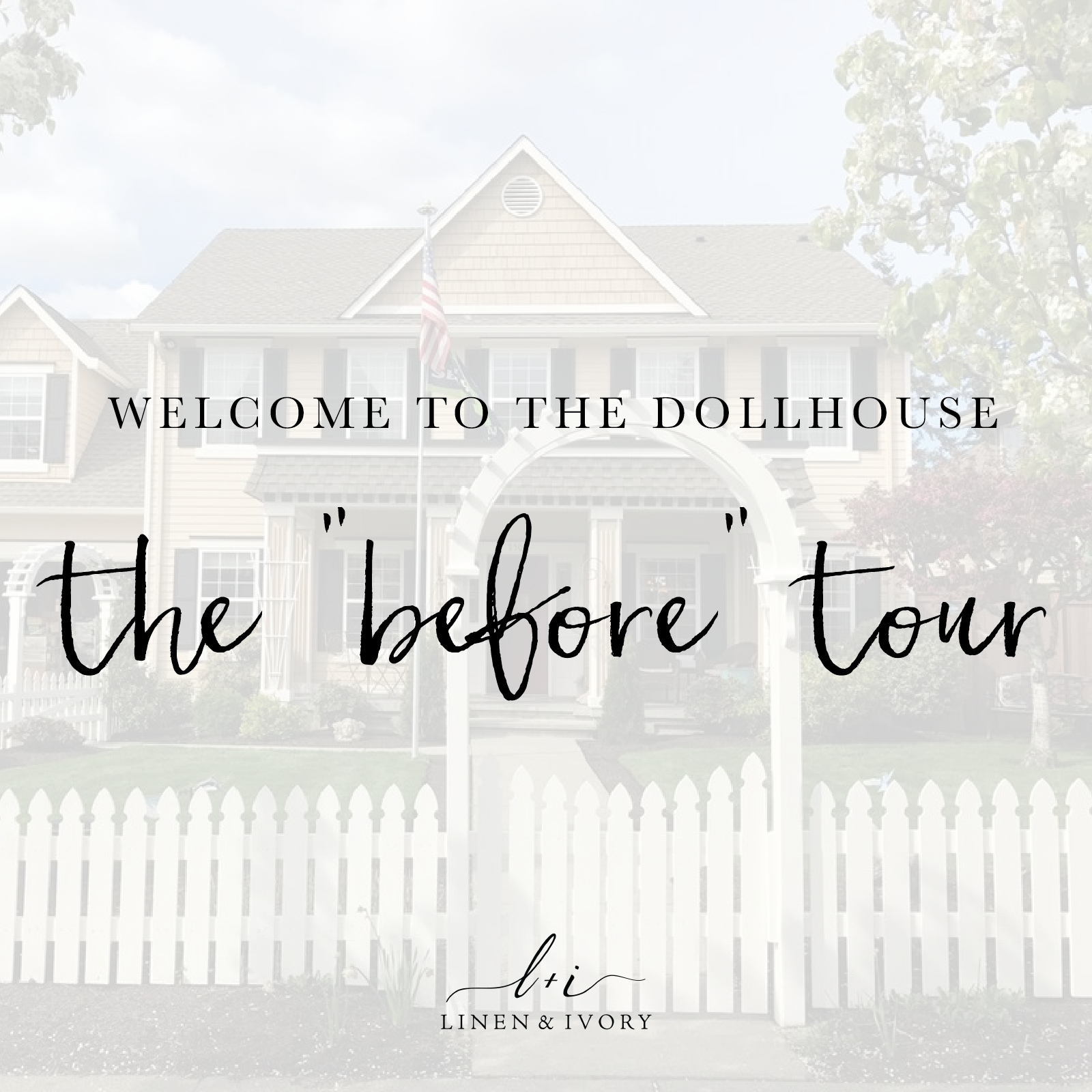 Hi friends! If you've been following along with our journey, you'll know that we are right in the middle of moving and home renovation and starting over in a new home! It's my whole world right now, besides pillow-making and kiddo-chasing. This blog will be my home base for a while - all things home reno. I'm going to be doing features on individual rooms in the house, some before & after posts, and dishing out all the tips and tricks I find along the way to make the process as easy (does that word even exist in the renovation world?) as possible!
Today, you get a walk-through. I'm taking you on a tour of the home, from top to bottom. The lovely "before" pictures. Thankfully, we're moving into a beautiful house. Besides some aesthetic changes here & there, it's basically move-in ready. We're not knocking down a ton of walls or doing any massive changes. (just a few!) For the most part, we're going to go through every room and elevate it. We're adding in some gorgeous craftsman trim (a farmhouse modern staple!), giving everything a new coat of paint, and installing new flooring. I'm so excited to see the transformation happen. In some way, this blog will feel like a journal of sorts. A place I can look back on when we have our updated home and remember the journey. The floral wallpaper and bright red carpet. The garden that we will never be able to keep up with. The closet big enough to clothe a small army. (sounds dreamy, I know. But I would rather have a gigantic master bath!)
So, welcome to my home! Make yourself cozy. Watch out for nails on the floor. Grab a cup of coffee. Let's take a tour!


In case you forgot... here's the outside! 
Entryway
oh - did I mention this home tour is full of someone else's stuff? It will make our after pictures look so much more drastic :) 
Formal Living Room 
Dining Room
Kitchen! So excited about this space. 
They called this the "keeping room" (adorable.) I think I'll call it the "binge-watch The Bachelor" room...or where the kids do homework room.

A little mud room area behind the kitchen
That lovely red carpet. One of the first things to go!
This will be Ryan's Office & the Guest Room.
You have no idea how excited I am about this laundry room! I think it's about 10x the size of my last. Not kidding.
The Mother-in-Law Suite, which we'll be converting into my L+I Studio!
Guest Bathroom (that floral wallpaper is *not quite* back in style yet... or is it??

Need your opinions! How do we feel about this molding? Is it a keeper? 
Entryway... my OCD needs to fix that rug. 
View of the living room from the upstairs
Upstairs hallway

Harlow's Room
The Kids' Bathroom (this is going to make teeth-brushing so much faster.) 
Master Bedroom (I think we should keep the bedding, no?) 
Master Bath - can you even believe that tub? THRILLED.
No joke the biggest master closet I've ever seen. And it's just one of TWO. (we might make it smaller and expand the Master Bath!) 
Maddex's Room - of course there's a puppy!
Brooklyn's Room
Bonus room! (Finally we have a place for kids to play that's AWAY from our main living area!) 
Bonus Room
The most beautiful backyard!!
The end! It's not perfect yet, but it's everything we need, and it's OURS! We're so thrilled to start this adventure and can't wait to see how it turns out. We hope you'll stick around throughout the process! 
6 Responses
Leave a comment
Comments will be approved before showing up.