Girl's Modern Boho Bedoom Reveal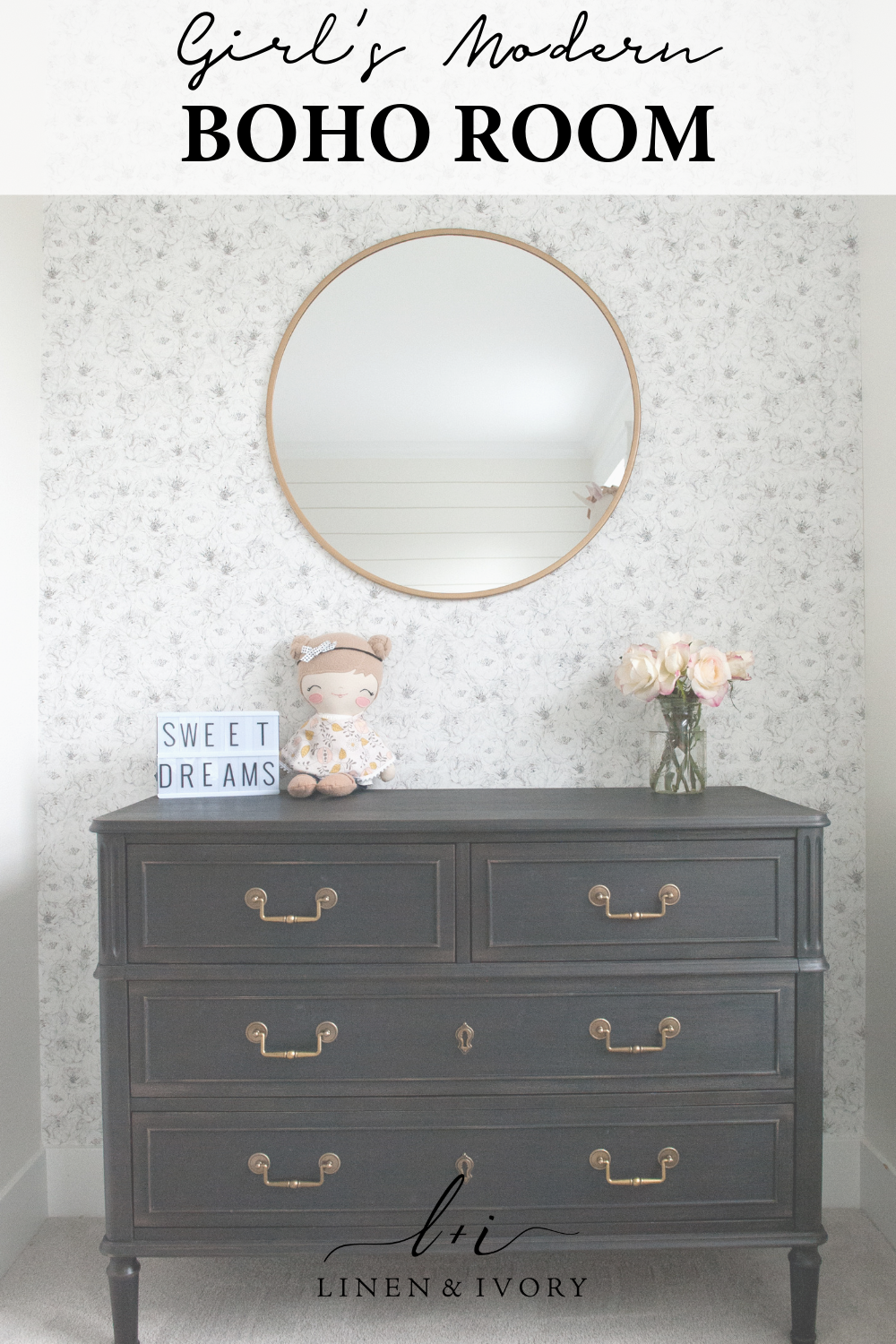 It's time for another room reveal!! Our new home is slowly coming along. We've decided to play the long game here. We're not looking to get the whole house done right away. We're taking it slow, going room-by-room and focusing on doing it well, not fast. (Right now we're in the middle of renovating my Linen & Ivory studio and I could not be more excited. I've been waiting for my own pretty work space for years!!)
Today I'm introducing you to Harlow's room. I called this room "Little Boho" - if you haven't read my previous post about her room, go check it out here! This room just had to scream Harlow. She's my #3, the spicy, spunky kid that just always keeps us guessing. We thought we would have another sweet, soft princess on our hands, but then we got Lolo. She's a handful and a half, and we're absolutely obsessed with her. I wanted to give her a room that would grow with her (hello, big girl bed!), and that had all the details that were perfectly suited to her personality.
A few things worth noting: just like Brooklyn's room, we had a big wooden sign made for her from House on 77th. I just love how they both were so perfect for my girls. We also did a fun floral wall in this room, from Milton & King. Installing wallpaper is always a chore, but it's so worth it. It brings so much personality to a space. I also had so much fun with this shiplap accent wall behind her bed. I'm only sneaking it in here and there in this house (because, what if, God forbid, shiplap ever goes out of style??) but I thought this was the perfect spot for it.
 My absolute favorite part of the room: when we were first starting renovation, one of the first things we did was switch out all the doorknobs. But before we put the knob on Harlow's room, we realized that if we peek through the hole, we get a perfect view of her when she's snoozing away in her bed. We've spent lots of time sneaking peeks of her during nap time, because it's just TOO cute. I don't think we're ever going to add the doorknob!
So enjoy your little tour of Lolo's Little Boho room! Full product list below!
 Product List
Bed - Magnolia Home Furniture
Duvet Cover - Pottery Barn Teen
Quilt - Pottery Barn Kids
Shiplap - Home Depot
Side Table (similar)- Amazon
Table Lamp (similar - Amazon
Unicorn Head - Target
Brass Mirror - Target
Wallpaper - Milton & King
Dresser - Pottery Barn Kids
Rug - Amazon
Bench (similar) - Crate & Kids
Kitty Pillow - Pottery Barn Kids
Beaded Chandelier - Pottery Barn Kids
Wildflowers Sign - House on 77th
Night Light - Restoration Hardware Kids
Doll - Pockets with Posies
Wall Color - White Dove from Benjamin Moore
Pillow - Linen and Ivory
2 Responses
Leave a comment
Comments will be approved before showing up.