Trendy Accents, Timeless Home.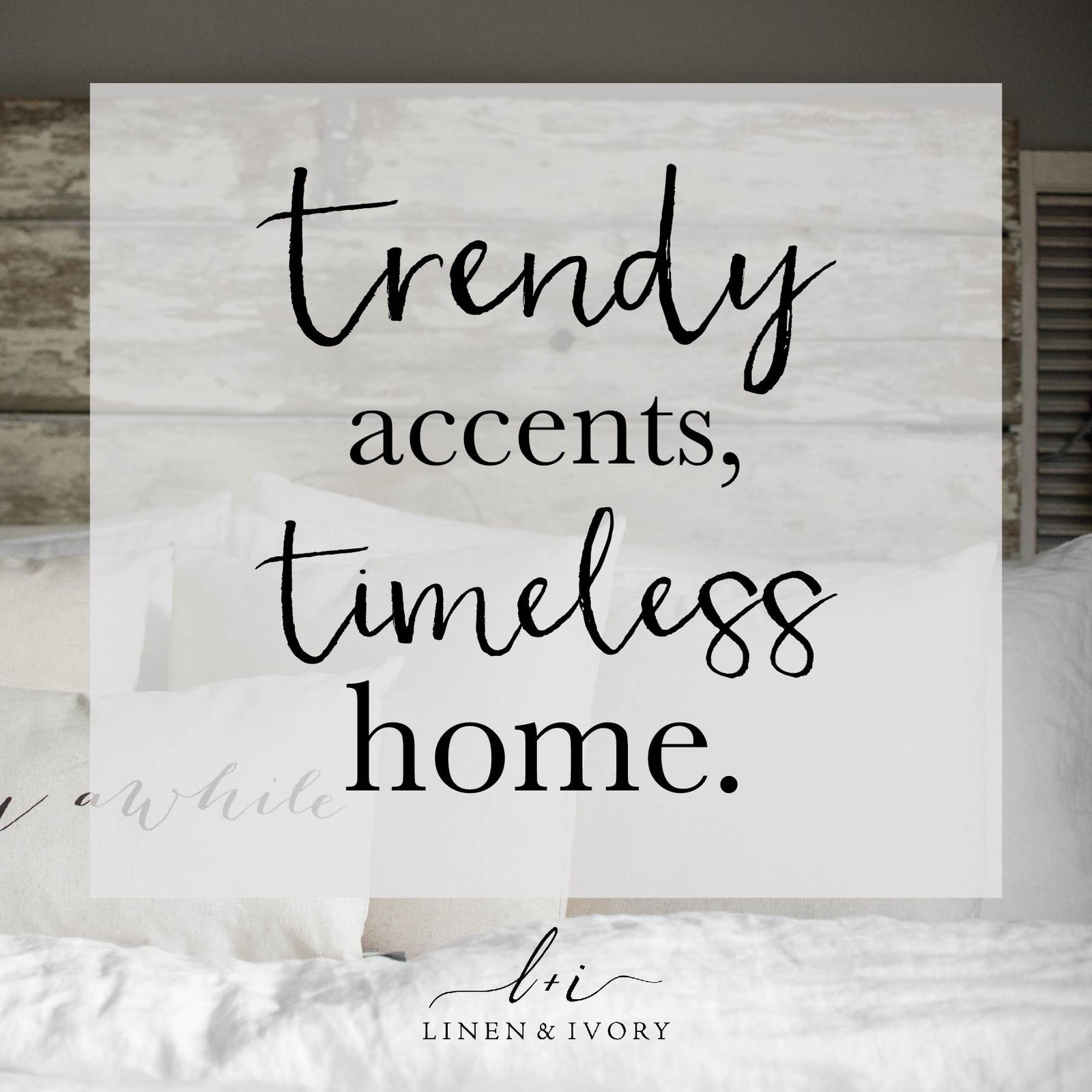 Anyone else have this problem? I'm scrolling through Instagram (because it's my job, duh.) and I can't help but notice everyone's amazing homes. All the details, all the new trends, all the cute little additions that they add to keep their spaces trendy and gorgeous. Sometimes it puts me in an online shopping frenzy. I'm always stuck in that in-between. I want my home simple, classic, white. But I also love all the fun trends: geometric patterns, botanical prints, patterns, color. So over the years I've developed my own system of adding in details while still retaining my style. I've figured out my way of investing in pieces that are timeless, and making small updates here and there that really make my home feel refreshed.
So here it is: Everything you need to keep your home updated, without overspending or sacrificing your classic style.
1. Put your money where it matters.
I believe in spending the most money on timeless, classic pieces. The most expensive items in my home are my linen sectional in my living room, and my white wooden bed. I care about pieces that will last throughout the years, ones that are flexible with style and can be decorated in fun ways depending on the season. I don't buy trendy furniture....okay fine I did buy a side table at Target a couple weeks ago that is for sure Mid-Mod meets Farmhouse! But as a general rule, every piece I invest in is neutral in color, and basic in style, because I want these items to last beyond the trends.
2. Shop Your Home
When I feel like a room in my home is looking a little sad, my first response isn't to start shopping (although that's tempting!). I take a walk around my house and see what can be moved around. You'd be shocked at the amount of money I've spent updating my home with things that I already owned.

Pro Tip: Whenever I buy a new rug, I make sure it is the same size as all my other rugs. Then, whenever I'm ready for a change, I just rotate them throughout my house! Another perk of buying neutral: everything matches everything!
3. Little changes make a big difference
One of my favorite ways to give a space a pick-me-up is to change out the hardware on my furniture and cabinets. Instead of buying a brand new piece of furniture, I just go to Anthropologie (They have an amazing assortment of fun and classic hardware), Hobby Lobby, or Home Depot and buy some new brass or gold hardware, and it completely transforms any piece of furniture you have!
4. Keep your Pictures Updated!
I have a few gallery walls in my home that haven't changed once since we moved in. Almost every frame on the wall is in the same space it's always been. But I always make sure that I'm updating the frames with my latest favorites. Pictures on gallery walls are rotated every year or so, and it makes the whole thing look brand new. Paying for prints is so much cheaper than starting over on your decor. So before going shopping for new frames and wall pieces, try switching out your pictures! I love seeing my walls change as the kids get older. They change so much every year, so it always looks completely different!
5. Change out Pillows with every Season
This is the easiest thing ever to switch around as the seasons change! It's so simple to pack away your pillow covers from the past season and bring out new ones, and your living spaces instantly feel fresh and new. They require zero installation time, almost no storage space, and they're so much more affordable than buying brand new art or furniture.
Here are some of my favorite Linen & Ivory pillows! Almost all of these find their way to my couch throughout the year!
6. Follow Trends with Small Pieces
Even though I like everything simple and white, it's so fun to add in some fun details, so every now and then I'll buy a few new items. I love getting art prints from Jones Design Company. I have them in frames, and I keep three or four in every frame, so when I'm ready for a change I just rotate them out! I also change out hand towels, throw blankets (I just blogged about my throw blanket obsession last week!), and other small pieces like coasters and serving platters that are a little bit more trendy and modern. I don't feel as bad buying these smaller things, because if I want to update them again the next year, I don't mind because I didn't spend too much on everything!


Long story short: Less is more. Trust your style, and don't feel like you have to change it all with every passing trend. Invest in things that will last. Add in little things when you want to incorporate some fun new styles. And don't be afraid to change things around! Move furniture to new spots, and switch things up using the items you already own.

I want to hear from you! What are some pieces you've added or moved around to freshen up your home? What styles are you loving right now? Any big pieces you've invested in lately?



1 Response
Leave a comment
Comments will be approved before showing up.